How Are Rugged Computers Made? Part 1: Shock and Vibration Testing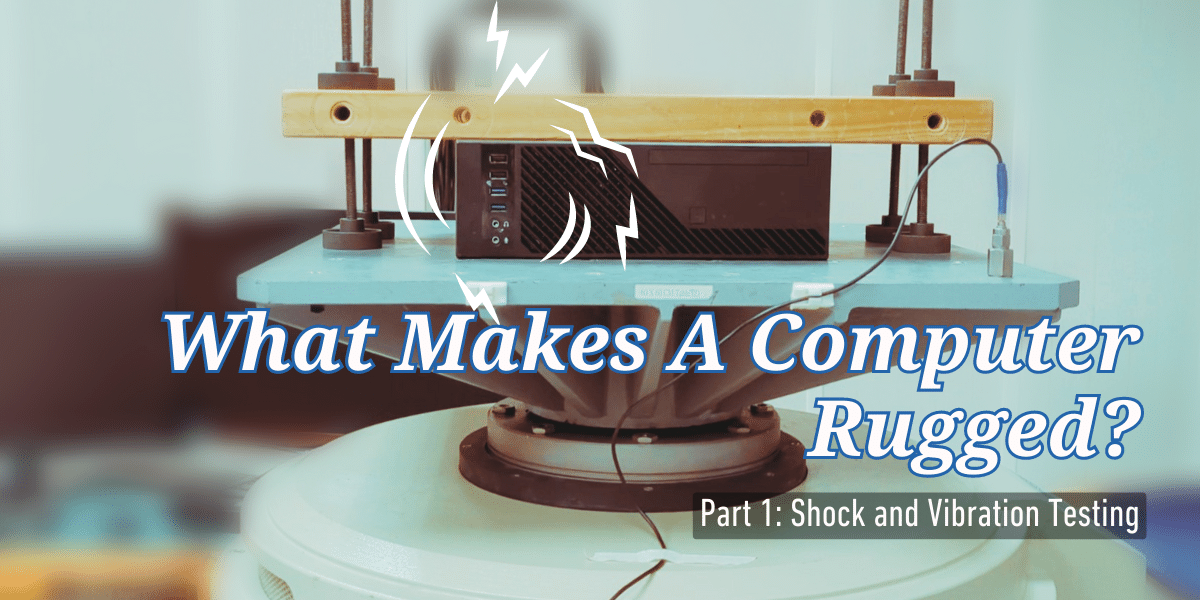 Industrial computers are expected to maintain performance in remote and harsh environments. Exposed to weather of all kinds, industrial computers are tasked to carry out essential functions such as collecting and analyzing data in large amounts. It is not a small feat, as these environments may be outdoor, exposed to variable weather conditions and even in enclosed areas that may experience strong turbulence from nearby moving objects.

These conditions have the potential to cause system failure in great amounts of stress, which may lead to business interruptions and lost revenue for organizations. To avoid this risk, manufacturers must guarantee their products can continue to operate without failure and subject them to industrial pc testing procedures. Shock and vibration testing is one way to guarantee a product's reliability.

Keep on reading to learn about common types of shock and vibration testing, the step-by-step procedures, examples of testing machinery used, and some real-life scenarios where industrial computers may be exposed to shock and vibrations.
What is Shock and Vibration Testing?
Shock and vibration testing is essential as it recreates the environments industrial computers will be deployed in to ensure they are able to withstand the stresses of real-world settings. Shock and vibration testing is one of many environmental testing procedures conducted by manufacturers, in addition to humidity tests, temperature tests and more. These tests are important as they expose the products' vulnerabilities and therefore better predict their operational capabilities. Through testing, manufacturers improve product design and ensure their products can withstand harsh industrial environments on the hardware side. Although we can't control all variables, at least we can eliminate the chances of failure due to hardware design.
Sinusoidal and Random Vibration Testing
There are two common types of vibration testing. The first kind is sine vibration testing, where the computer is subjected to a vibration of one frequency. The second type is called random vibration testing, where the product experiences vibrations of multiple frequencies. Sine testing is useful for identifying resonances in a product, whereas random vibration testing simulates more of a real-world setting. Resonance basically refers to when the vibration frequency that is applied externally to a product is the same or almost identical to the product's natural vibration frequency. When a product continues to vibrate at its resonant frequency, the vibration can lead to eventual damage to the product due to extended levels of stress.

During the test, the product is secured to a shaker table, and the shaker table is driven by a signal generator that produces the required vibration. At our labs in C&T, our industrial computers are subjected to random vibration tests, at a range of 3-5 Grms. Grms is the unit of measurement for random vibration acceleration.

Shock Testing
In addition to vibration testing, manufacturers also subject their products to shock testing, where they experience high levels of acceleration to test products that are susceptible to experience similar levels of impact when deployed in real-world applications.

A kind of shock test is the classical shock test, where the product is subjected to a series of rapid changes in acceleration. G is the unit used to measure shock acceleration. During the test, the product is secured to a shock table, and a striker or pneumatic ram is used to deliver the required shock pulse. Typical shock test requirements for products can range from 50G to 500G depending on the purpose of the product. At C&T, our industrial computers are subjected to shock tests at 50G.






C&T are dedicated to providing the best quality computers tested for the harshest conditions.
From Left to Right: Curtis Ho, Ives Tsao

At C&T, we use King Design's shock and vibration machine, capable of testing all our machines and technology to comply with international shock and vibration standards and certifications.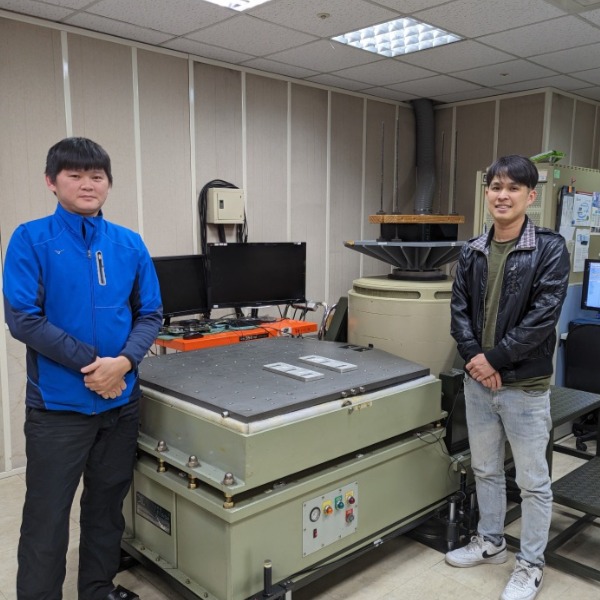 In-house Shock and Vibration Testing
At C&T, we have in-house machines that conduct shock and vibration tests for all our industrial computers. Our shock and vibration machine can apply up to 500g of shock acceleration and 3 Grms of random vibration acceleration to a product. Our in-house operators are in the picture above
, standing beside our shock and vibration machine. The machine consists of a vibration head, which generates the vibration, and a control unit, which manages the vibration test. The vibration head is attached to a shaker table, driven by a signal generator that produces the required vibration. The control unit operates the signal generator, shaker table, and the sensors that measure the product's response to the vibration.
Shock and Vibration Test Procedure
The first step in the test procedure is to prepare the product for testing. This involves mounting the product on the shaker or shock table and securing it. Once the product is secured, the test procedure can begin. The machine is programmed to apply the desired acceleration and vibration, and the test is run for a specified period. During the trial, the sensors measure the product's response to the conditions, and the data is recorded for analysis. If the product passes the test, it can be certified as reliable
for use in industrial environments. Conversely, if the product fails the test, the design can be modified to improve its durability and reliability.

The video below s
hows a demonstration of one of C&T's industrial computers being subjected to a Random Vibration Test of 3GRMS.
Real-life Application Examples
Many industries, including marine and railway, conduct shock and vibration testing for their products. Within marine applications, industrial computers must withstand harsh ocean conditions, where there are strong vibrations in underwater or above-water enclosures. Vibration and shock testing are undertaken to ensure systems can withstand the impact of high waves and strong winds. Furthermore, in railway applications, industrial computers must withstand the vibration and shock caused by trains traveling at high speeds. Therefore, vibration and shock tests are critical to include in environmental tests to ensure systems can withstand extreme conditions while operating reliably.
Certification Compliant
Several certifications are available for products that demonstrate their reliability in industrial environments. These certifications include EN50155 and EN50121-3-2 for railway applications, MIL-STD-810H for standard military applications, specifically MIL-STD-81 0H 514.8 for vibration testing, and MIL-STD-810H 513.8 for shock testing. These certifications ensure the functionality of a product in harsher environments beyond that in which typical consumer products can operate. At C&T, we conduct tests that comply to universal certifications such as those listed above, and more including UL, and ISO13485. Our in-house engineers are dedicated to testing our products to the limit, so you won't have to worry about deploying our machines at the remote edge.
Find out more about EN50155 Railway Certification Here
Find out more about Mil-Spec Computers Here
C&T Makes Rugged, Quality Assured, Vibration-Proof Industrial Computers
C&T Solutions Inc. have our very own in-house environmental testing lab where we conduct in-house shock and vibration testing for rugged computers to ensure that they are reliable and functional across all industrial-grade terrain. Our industrial computers comply with certifications such as EN50155, EN50121-3-2 for railway applications, and MIL-STD-810H, and MIL-STD-810H 513.8/514.8 for military grade shock and vibration testing standards. By conducting these tests in-house, we can guarantee that our products remain competitive in any industrial application you may have in mind.

C&T remains dedicated to providing top-of-the-line products that do not leave the warehouse without embedded systems vibration tests to enhance product lifecycle. Among our products which have been subjected to vibration and shock testing is our ACO-6000-CML, our in-vehicle embedded system, designed to withstand the strong vibrations of moving vehicles.

Key Features:
Intel® 10th Gen Core LGA1200 Socket with W480E chipset
Intel® Xeon-W processors with ECC Memory Support
EN50155 Railway Certification Ready
Wide Power Supply Input 9-48VDC and 48-110VDC
Support up to 18x LAN (16x M12/RJ45 GbE/PoE + 4x RJ45 GbE Ports)
Built-in CAN Bus Transportation Protocol
Power Ignition Management
5G Ready
50G Shock & 5Grms Vibration Resistant
Explore ACO-6000-CML Series