C&T's Innovative Modular Design Makes its Industrial Display System Flexible and Versatile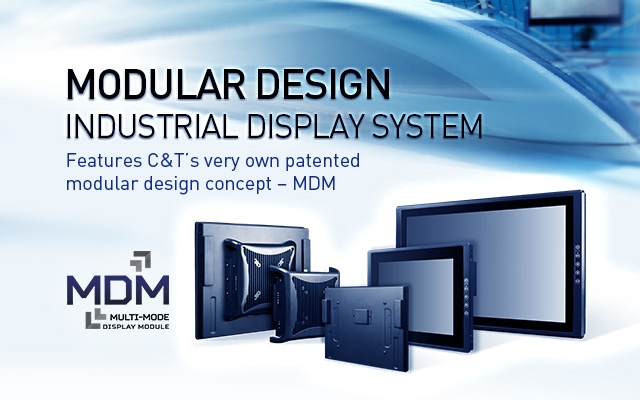 Taipei, Taiwan, September 13, 2016
– C&T Solution Inc., a leading provider of industrial computer products, is thrilled to reveal its very own Industrial Display System series. C&T's VIO series of industrial Panel PC and Touch Monitor are patented, reliable, industrial-grade that is customized to provide solutions for automation, information and communication applications. C&T's industrial Panel PCs and touch monitor are application-ready systems with general software and hardware compatibility which have been already pre-tested. The rugged displays and touch panels are designed to withstand the toughest industrial requirements such as shock, vibration and temperature resistance. The display system are specifically designed for industrial panel PC application like industrial automation HMI, in vehicle, retail, self-service, medical, ATM, and self-service kiosks.
The VIO series of industrial Panel PC and Touch Monitor offers flexible, scalable, and reliable architecture for PC based control and automation applications. They are designed to endure heavy public usage, harsh conditions and long operating hours. In addition, they provide a cost-effective, versatile solution to meet the vast demand emerging from semi-industrial and industrial computing markets.
C&T's VIO series industrial display system features flexible system design to provide easy access and maintenance to components. It features versatile and superior computing performance to support a variety of industrial applications in numerous industries.
Engineered to be flexible and scalable, C&T's VIO industrial display system series features its very own patented modular design concept called MDM (
M
ulti-
D
isplay
M
odule) that allows a wide variety of different configurations. The MDM offers display module with PC or monitor modules to build a complete system. These modules are interdependent which could be replaced and switched separately. Moreover, it supports different display modules for size/resolution/touch/frame which is compatible with different PC/monitor modules such as I/O, platform and expansion.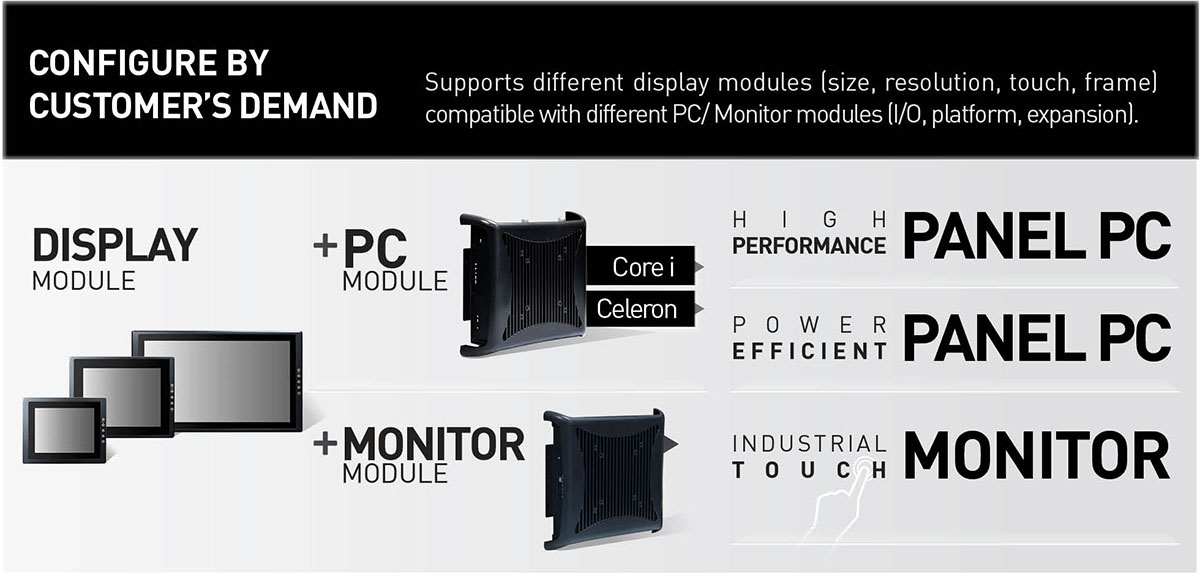 The C&T's VIO series industrial display system are available in displays with both resistive single-touch and projected capacitive multi-touch. The resistive single-touch provides highly economic solution for moderate use applications. Alternatively the capacitive touch screen offers multi-touch capabilities with anti-scratch glass and allows touch gestures on a display even when users are wearing gloves.
The advanced design of C&T's VIO series industrial display system provides support not only for widescreen 16:9 displays systems, but also for classic 4:3 displays. The widescreen display allows the visualization of more detailed and different data at one glance.
With adaptability and future upgrades in mind, the C&T industrial display system protects its customer's investment by maximizing its benefits. The new released models are designed to be backward compatible and could be upgraded independently.
All C&T's VIO series industrial display system features:
Fanless Design that allows low noise level and keeps away collective dust in fans.
Cable-free Design optimizes thermal dissipation, prevents cable loss and better shock vibration.
Wide Voltage Input offers wide 9VDC ~ 48 VDC input to ensure 24/7 availability in the most demanding environments.
Wide Temperature offers an operating temperature range between -25°C to +70°C which is typically expected for semi-industrial and industrial applications.
Over Current Protection fuse to prevent in-rush current from damaging the system.
Over Voltage Protection to limit fault currents that may damage the system.
Reverse Protection offers power protection to help avoid human error during incorrect operation.
The C&T's VIO series industrial display system delivers a rugged solution with excellent shock and vibration characteristics. It is built of aluminum die-casting chassis with an IP65 flat front bezel, providing a lightweight yet durable design, and also to protect from water, moisture, dust, and heat. It utilizes Industrial Grade LCD to ensure high performance and longevity support.
For easy installation and maintenance, C&T's own patent "MDM" offers a smart and user-friendly mechanical design in just 3-steps. It also features 5 key OSD keypad which includes power button on/off, menu selection for brightness, volume, contrast, auto adjust monitor location, and up/down. In addition, it also provides multiple mounting options to suit a wide range of environments.

All C&T's VIO series industrial display system has been designed to provide industrial user with superior performance, high reliability and state-of-the art features to make sure that our customers continually gets the best performance.
For more information of modular design display system, please visit
www.candtsolution.com
.