VCO-6100
The VCO-6100 Series Machine Vision Systems provide powerful computing and excellent graphic performance, which are suitable for graphic-intensive and computing-oriented applications including image and vision measurement, machine automation. Delivering high quality, durability and compact construction, the systems leverages a reliable fanless and cable-free configuration, optimal thermal dissipation, and easy installation for flexible and user-friendly system development and application implementation in harsh environments.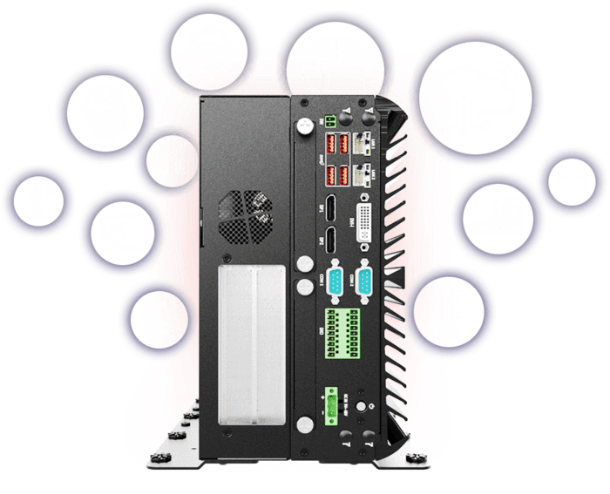 Sharper Vision At The Rugged Edge
The VCO-6100 Machine Vision Computer Series focus on driving rich visual data processing in challenging settings. These expandable embedded computers are engineered to apply Intel® 9th Gen and Q370 chipset PCH advanced processing to responsive visual analysis in volatile, demanding and mobile deployments. The VCO-6100 Machine Vision Computer Series support rich processing, future-ready storage technologies, and rapid connectivity for more reliable, efficient processing at the rugged edge.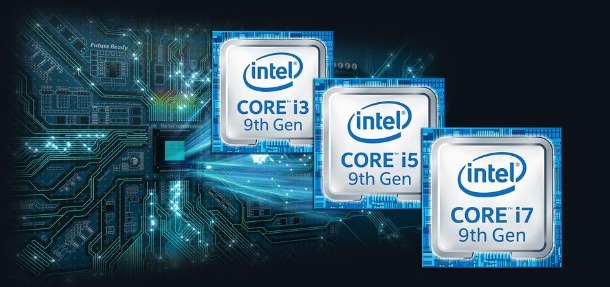 9th Gen Intel® Core™ Processors
The 9th Gen. Intel® Processors and Q370 chipset enable processing power and IoT support for responsive vision-reliant computing in challenging settings.
● U
p to eight hyperthreading core
● Up to 12MB cache; up to 4.4 GHz
● Intel® UHD Graphics 610
/6
30
Accelerate Machine LearningWith X16 PCIe GPU (Full Length)
The VCO-6000-CFL Machine Vision Computer Series offer multi-level processing and real-time intelligence by balancing workloads between CPU and GPU performance cores. The front sided PCIe expansion slots for the vision computer can be populated with GPU performance accelerators in a Full-Length, Full Height form factor. Graphics accelerators like GPUs allow intelligent devices to run machine learning algorithms for inference analysis of data from a variety of IoT sensors.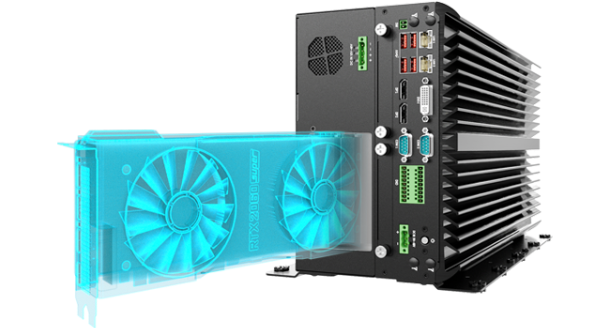 Accessible PCIe Magazine Tray
The VCO-6000-CFL Machine Vision Computer Series provides expansion capabilities on a new level for performance and reliability. Its unique PCIe magazine tray is designed for easy installation and access to full-size PCIe x16 GPU acceleration cards. Easy and adjustable mechanical brackets provide locking reinforcement to ensure resistance against shock and vibration.
The VCO-6100 Machine Vision Computer Series ensures ultimate reliability by delivering cooling where it counts. The ultra-conductive aluminum heat sink dissipates heat with the support of a hot-swappable smart fan module that regulates performance based on thermal readings. The hot-swappable fan can also be easily removed for replacements or quick maintenance in the field.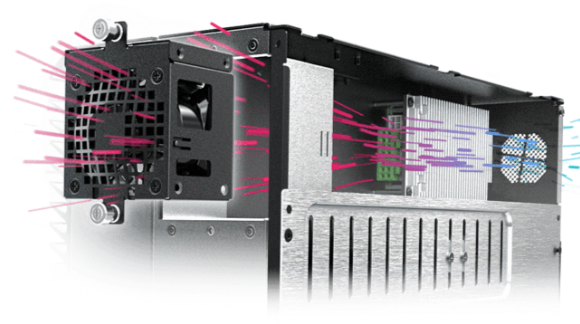 NVMe: Immediate Edge Intelligence
The VCO-6100 Machine Vision Computer Series enable high-speed NVMe storage for greatly accelerated data leverage. Support for an onboard M.2 NVMe drive with PCIe 3.0 x4 performance efficiently feeds integrated CPUs and GPUs volumes of data for complex data cache applications. Rapid data speeds enable more reflexive machine vision, automation and inference analysis at the edge.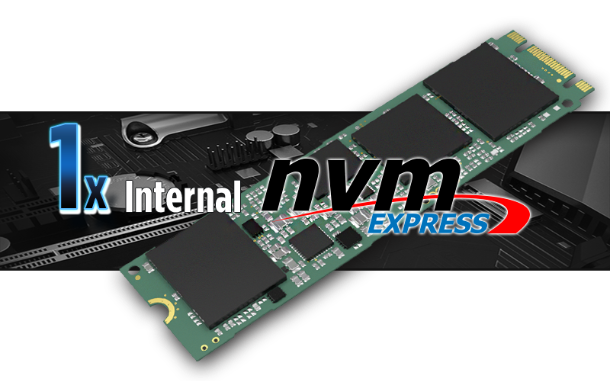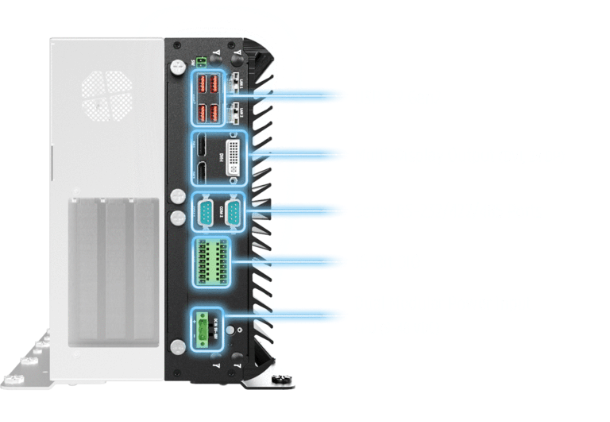 The VCO-6100 Machine Vision Computer Series incorporate leading-edge I/O options for a vastly expandable Industry 4.0 solution. Reliable serial ports, multi-display outputs and high-speed USB ensure smooth integration and offer rich scalability to rugged edge deployments.
Additional Storage Support
The VCO-6100 Series Machine Vision Computer Series supports two hot-swappable external SATA SSD/HDD drive bays and two internal drive bays for a scalable RAID solution. The external 2.5" drive bays permit hot-swappable replacement of the SATA drives, simplifying service and capacity upgrades.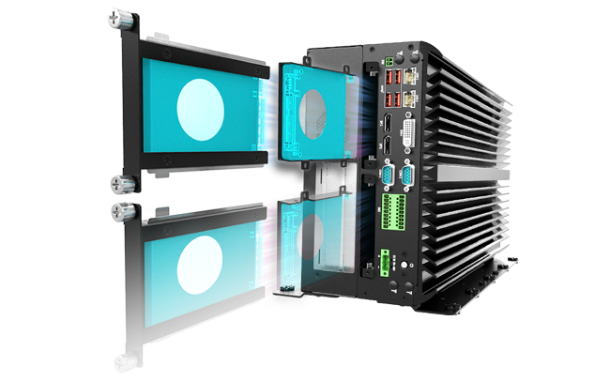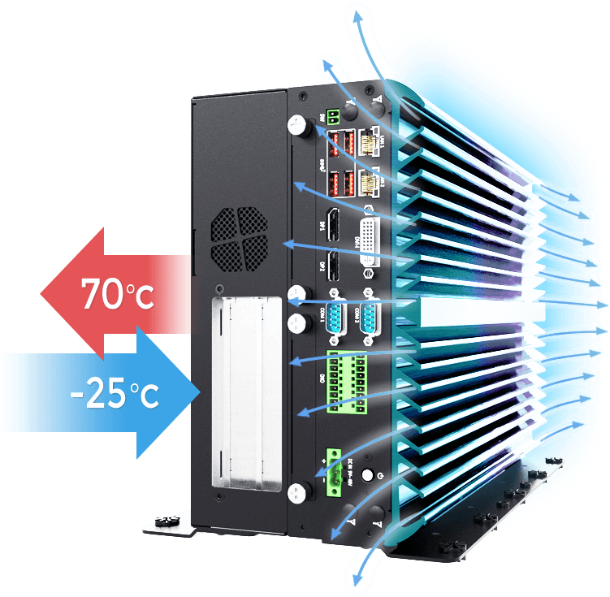 Built Rugged. Built Ready.
Ruggedized hardware safeguards VCO-6000-CFL Machine Vision Computer Series in severe, remote and dynamic environments.
● Fanless cooling eliminates failure points
● Wide -25 to 70° C operating temperature
● 20G shock and 3 Grms vibration tolerance
● Wide 9 to 48VDC voltage input
● Power Ignition Management safely powers down after engine shutoff
● TPM 2.0 for password protection, device authentication and future-ready cybersecurity

USB
4x USB 3.2 Gen2

COM Ports
2x RS-232/422/485

Universal Bracket And Expansion Slot
2x Universal BracketUp to 5 Expansion Slot

Display
2x DP (4096 x 2304)1x DVI-I (1920 x 1200)
Industrial Automation

The VCO-6000-CFL Machine Vision Computer Series can recognize and interpret visual data to accomplish myriad tasks independently. GPU- and NVMe-accelerated real-time decisions are made without time-taxing, error-prone human oversight. Industrial processes can be independently streamlined for safety, efficiency and resource conservation.

Metrology and Defect Detection

The VCO-6000-CFL Machine Vision Computer Series apply accelerated GPU and NVMe technologies to industrial optical applications in dynamic spaces. The solution quickly recognizes and "understands" visual data it collects about objects and values and makes determinations to aberrations or defects. The VCO-6000-CFL Machine Vision Computer Series help uphold standards of quality, purity and serviceability in manufacturing sectors.

Intelligent Transportation

Developing and improving autonomous vehicle systems and driver assistance systems (ADAS) requires massive real-world data from the various high-resolution cameras and vehicle sensors to train AV (autonomous vehicle) and ADAS (advanced driver assistant systems) algorithms. Obtaining this data requires purpose-built computing solutions capable of storing and recording data in real-time with speed and accuracy.