The ACO-6000-CML Series in-vehicle computers are validated under strict certifications, including E-Mark, CE, FCC, EN50121-3-2, EN50121-4, and the EN50155 railway certification. Intelligent transportation systems have become even more significant as transformative technologies process data for machine learning and intelligence at the edge. As a result, many in-vehicle applications require reliable, high-performance computers to handle data processing from a variety of sensors and IoT devices for low-latency communication.
Intel® 10th Gen Core LGA1200 Socket with W480E chipset

Intel® Xeon-W processors with ECC Memory Support

EN50155 Railway Certification Ready

Wide Power Supply Input 9-48VDC and 48-110VDC

Support up to 18x LAN (16x M12/RJ45 GbE/PoE + 4x RJ45 GbE Ports)

Built-in CAN Bus Transportation Protocol

Power Ignition Management

5G Ready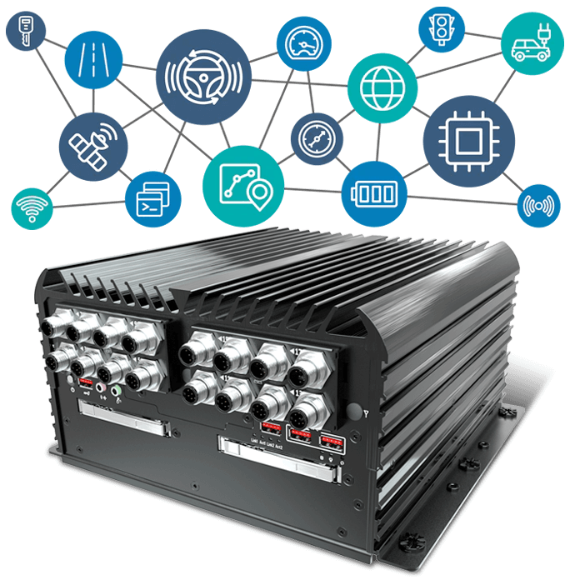 The Importance Of EN50155 Railway Certification


EN50155 is an international certification covering computers used on rolling stock for railway applications. One of the critical features of the ACO-6000-CML Series is the ability to support a wide power supply input from 9VDC up to 110VDC. Designing computers for railways poses unique challenges, such as power supply fluctuations, constant vibrations, and limited space availability to address safety and reliability concerns for systems used on railways.
4 Critical Elements of EN50155 In-Vehicle Computers:
Power Protection Rating: 9-48VDC and 48-110VDC

Shock and Vibration Rating: 50G Shock & 5 Grms Vibration

Operational Temperature Rating: -25°C ~ 70°C

Electromagnetic Compatibility Rating: EN50121-3-2 and EN50121-4 for EMC Conformity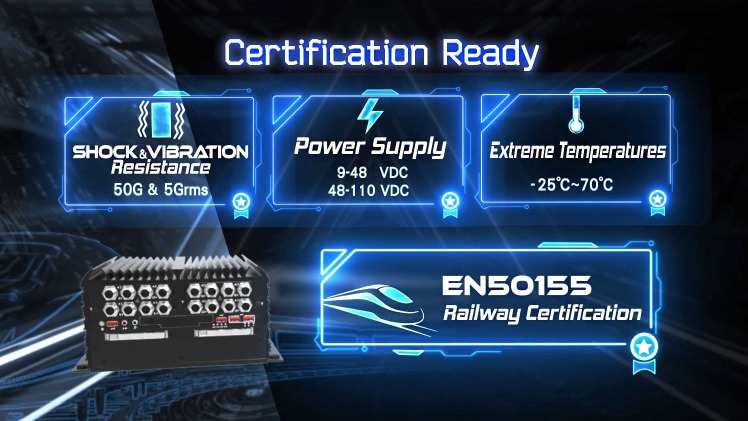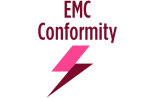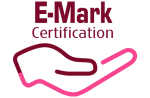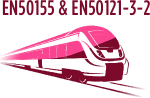 Higher Voltage For Railway Deployments (48-110VDC)

The EN50155 certification ensures the ACO-6000-CML Series can support 9-48VDC and 48-110VDC of power supply inputs to cover all voltage levels, including the most common 24V, 72V, and 110V in electronic railway and rolling stock equipment. In addition, when a large voltage fluctuation occurs in the system due to a damaged converter or a short circuit, the ACO-6000-CML Series is built with Over Voltage Protection (OVP) and Over Current Protection (OCP) to ensure the system's safety and durability.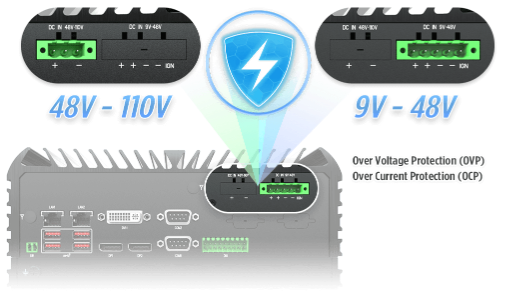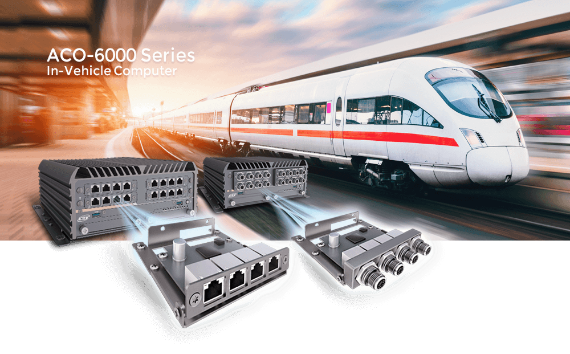 Rugged Edge Computers Advance Data-Heavy Railway Signaling And Surveillance
Explore the role of ACO-6000 In-Vehicle Computer Series on improving optimization and safety of complex and mission-critical railway systems. High-performance computers are crucial for latency-free data handling to transmit information reliably and efficiently between rail vehicles and railway control hub
Built-In Embedded CAN Bus For Vehicle Telematics

The ACO-6000-CML Series supports a two-channel, two-pin CAN Bus I/O and Protocol embedded on the motherboard. The CAN Bus support allows the computer to leverage vehicle telematics data and provide real-time analytics for intelligent transportation systems, fleet management, process analytics, and system optimization.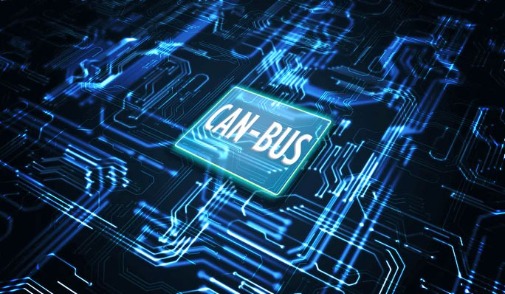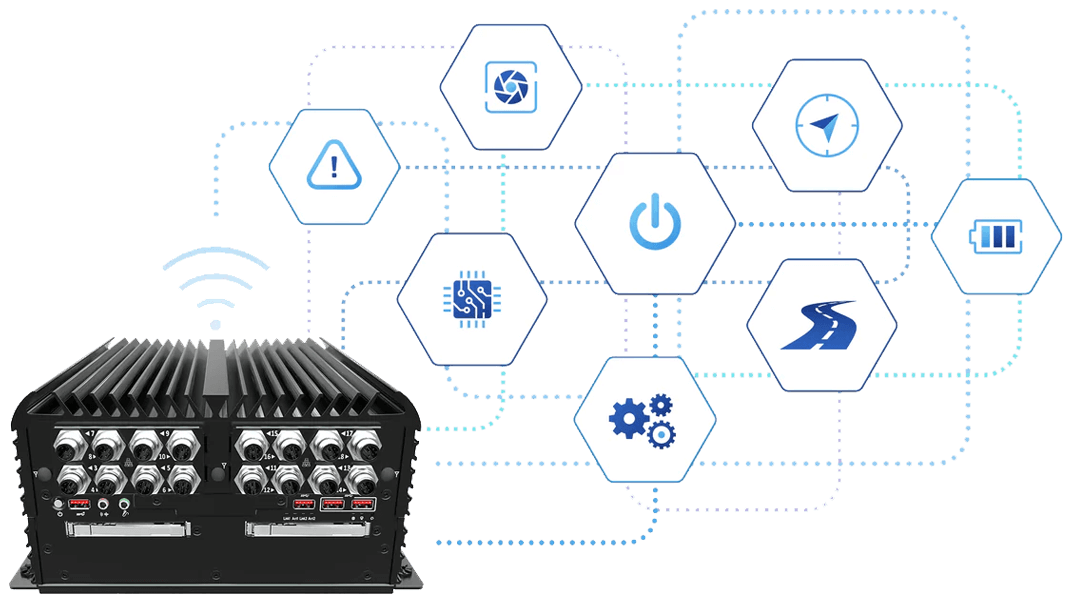 Power Ignition Management

The power ignition management feature delays the system shutdown after engine shutoff for a pre-determined, programmable interval to ensure that no data corruption occurs due to a sudden and abrupt shutdown. Configurable for both 12V and 24V systems, this feature ensures that applications close properly, avoiding data loss or corruption.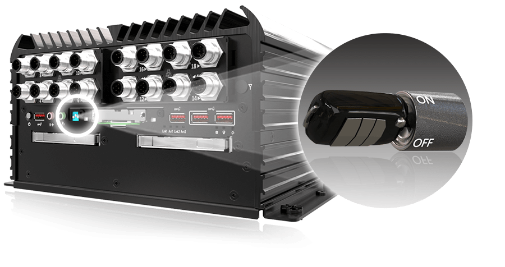 10th Gen Intel® Core™ And Intel® Xeon® W Processors


The ACO-6000-CML In-Vehicle Computer leverages rich performance enhancements provided by W480E Chipset to support 10th Gen Intel CML S Processors or optional Intel XEON W-1290TE processors with ECC memory support for server-grade performance. The processors ensure reliable and powerful performance, capable of handling numerous sensors and IoT devices amid deployments.
10th Gen Intel® Core™ (35W/65W TDP)
Up to ten hyperthreading cores
Intel® UHD Graphics 630
Intel® Xeon® W-1290TE (35W TDP)
Up to ten hyperthreading cores
Supports Error Correction Code (ECC) memory
Scalable And Versatile I/O, Up To 16x PoE

A key differentiator of the ACO-6000-CML in-vehicle computer is its I/O scale for its size. The modular design supports scalability up to 4x universal I/O brackets with up to 16x I/O ports. The 16x port expansions can be configured into 16x RJ45, 16x M12, or 16x USB ports, with optional GbE/PoE ports, a key advantage for connecting IoT sensors at the edge. The versatile I/O also supports Dual 10 GbE LAN/PoE and Dual-SIM 5G modules.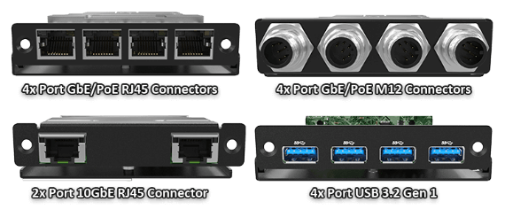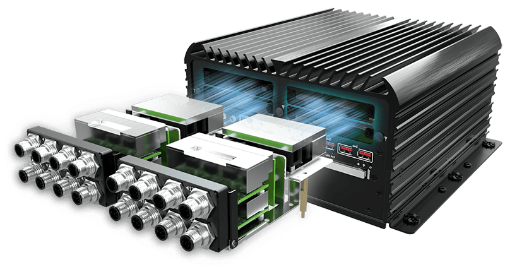 Remote And Wireless Connectivity From The Rugged Edge

The ACO-6000-CML Series enables seamless wireless connectivity for remote and mobile edge deployments. It can be configured with Dual-SIM 4G/LTE and Dual-SIM 5G cellular connectivity to provide redundancy amid remote, rugged edge deployments. The in-vehicle computer is also certified to connect and pass data telemetry into the cloud.
Wi-Fi 6

Bluetooth 5.0

Embedded Dual-SIM 4G/LTE cellular

Modular Dual-SIM 5G cellular

Cloud Certified Device on Microsoft Azure and Amazon AWS Greengrass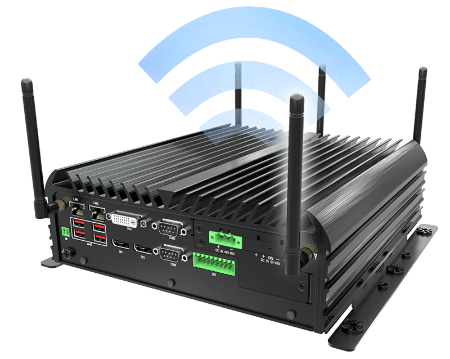 Redundant IoT Data Storage

The ACO-6000-CML in-vehicle computers can be configured with 3x 2.5" SATA SSDs, 1x internal 2.5" SATA SSDs at 9mm height, and 2x external hot-swappable SATA SSDs at 7mm height. The external 2.5" bays permit toolless, hot-swappable replacement of the SATA drives, simplifying service, and capacity upgrades.
High-Speed NVMe storage

High-Capacity SATA storage

Hardware and Software RAID Availalble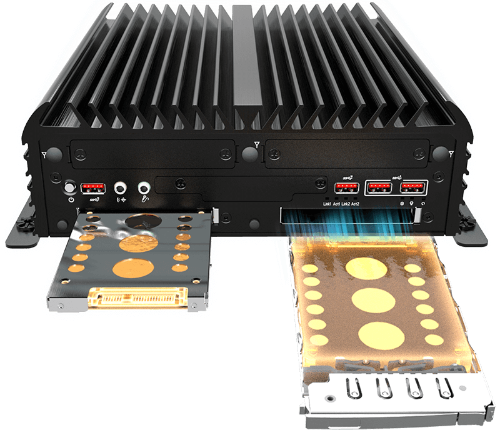 Performance Accelerators With PCI Express Slots

The ACO-6000-CML Series can be configured with a PCIe Gen 3.0 slot or an optional PCI slot for various high-speed performance accelerators such as
Raid Cards

Video Capture Cards

Wireless Network Cards

I/O Ports Expansion Cards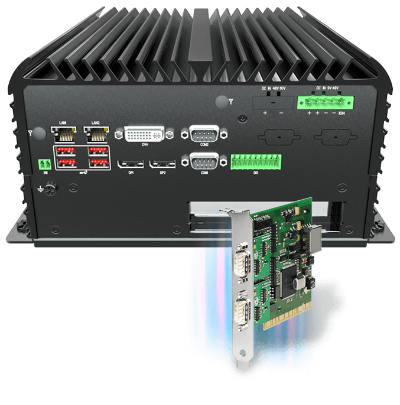 Built Rugged. Built Ready.

The ACO-6000-CML fanless in-vehicle computers are tested and validated to ensure safe and reliable operation for mission-critical, automotive applications. The fanless in-vehicle computers come with various additional features to process a massive influx of data coming from various sensors and IoT devices while maintaining their reliability amid rugged edge deployments.
Fanless and cableless architecture industrial PC

Wide -25°C ~ 70°C operating temperatures

50G Shock and 5 Grms Vibration resistance

Wide Power Supply Input 9-48VDC and 48-110VDC

Programmable Power Ignition Management

TPM 2.0 for password protection, device authentication, and cybersecurity