C&T's in-vehicle computers are designed and validated to operate in a variety of edge computing applications from mass transportation, railway and transit, security and surveillance, and automotive market segments. The vehicle mounted computers can operate in the harshest environmental conditions while delivering mission critical reliability in autonomous and remote edge deployments.
Designed to eliminate detrimental downtime, these customizable in-vehicle computers are ideal for local processing and inference analysis at the edge in real-time. C&T's wide-portfolio of embedded computers feature the latest Intel processing technology, IoT supported LTE connectivity, security, and certified industrial reliability. The ACO Series in-vehicle computer is engineered with a rugged fanless design that provides an optimal balance of performance and durability in remote applications. Accelerate your IoT deployments for computing and connectivity with C&T's ruggedized in vehicle computers

Autonomous Vehicles

Machine Learning

Motion Control

Digital Surveillance

IoT Connectivity

Mass Transportation
ACO-6000 Processor Performance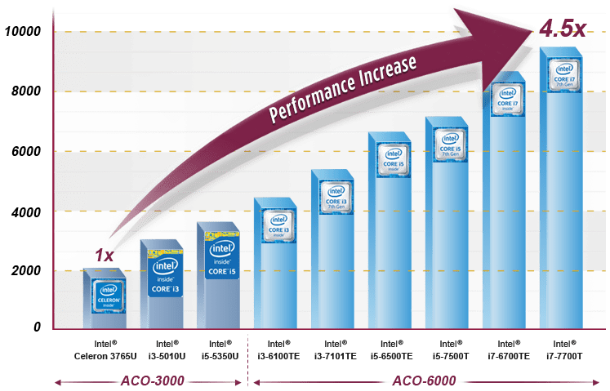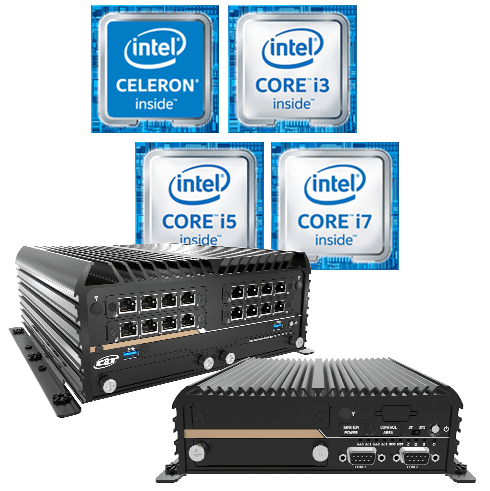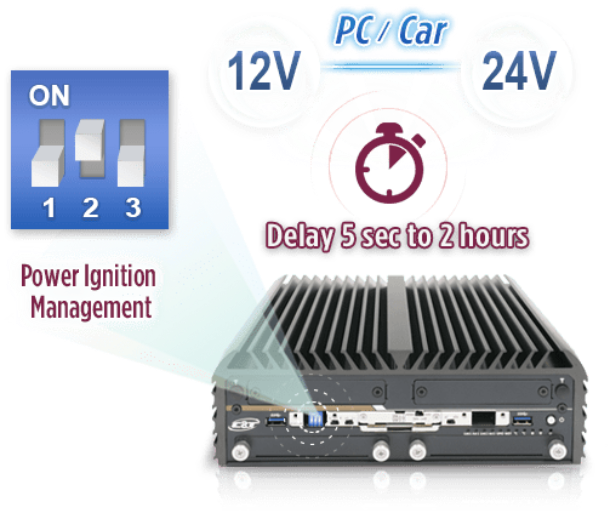 Power Ignition Management
The ACO series in-vehicle computers are specialized to cooperate with vehicle engine systems and feature intelligent power ignition management for safe computing operation when sourcing power supply from a vehicle battery. Configurable for both 12V and 24V systems, the power ignition management sets an adjustable delay timer for powering the computer on/off and preventing data corruption from improper shutdowns.
Integrated power protection provides an additional layer of security to safeguard electronic components from sudden voltage changes and other critical disaster situations that are often faced in automotive and transportation deployments. C&T's in-vehicle computers sustain wide input voltage to cope with fluctuating battery levels and engine cranking to keep the system operating when voltage droops low. Conversely, the ACO series also protects against overvoltage, overcurrent, and reverse polarity by rerouting circuits to stabilize the electronics.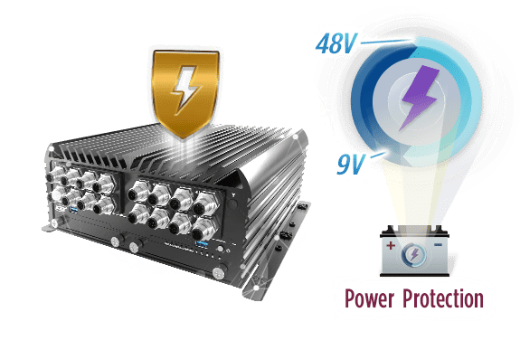 Modular Expandable PoE/ Lan Ports For Security & Surveillance In Mass Transit
Superior I/O flexibility thanks to a unique modular design that provides a wide variety of port configurations including lockable M12 connectors. Secure connections are essential when operating in a vehicle's environment where frequent stops, acceleration, and overall shaky conditions persist. The ACO-6000 series also supports up to 16x PoE devices such as smart security cameras that can be integrated for an NVR solution in rolling stock and railway surveillance.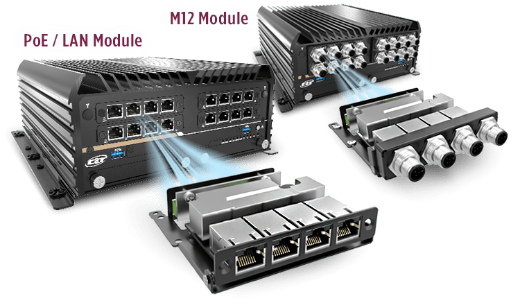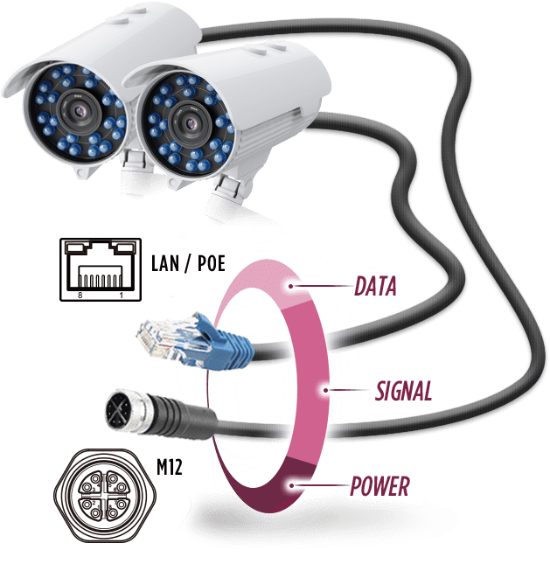 CAN Bus Transportation Protocol
CAN bus is an underlying nervous system of a vehicle that enables Electronic Control Units (ECU) to exchange data between each other with up to 6000 CAN messages per second. Each individual ECU controls a vital function of a vehicle which in turn generates valuable engine performance information over the control area network. C&T in-vehicle computers are able to directly tap into this data source for processing and provide real-time analytics for fleet management and IoT applications.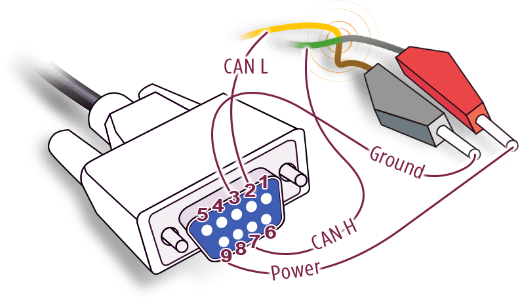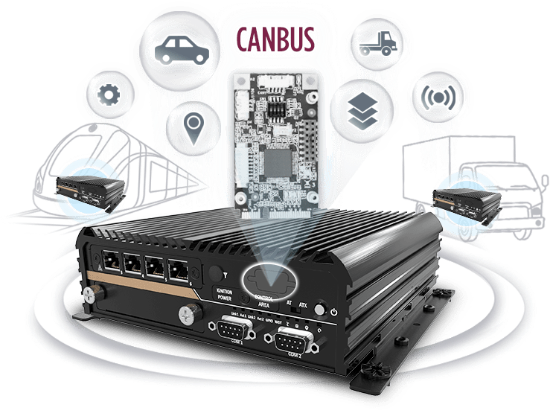 Wifi 5(802.11ac), Bluetooth 4.1, Cellular 4G LTE are supported in ACO in-vehicle computers. These embedded edge computers can take advantage of the cloud to achieve greater productivity and savings. Connecting the unconnected creates a network of computing devices to optimize the functionality of the machines.

When wired or WIFI connection is not accessible. 4G LTE dual band can be the alternative. The ACO is equipped with Dual Sim Slot to provide a consistent and reliable connection. Cellular companies have different coverage zones and areas where signals are stronger; Dual Sim helps in selecting the optimal signal for a smooth connection. Dual-Sim also acts as a backup in case one of the networks experiences downtime to make sure mission critical data is delivered or stored.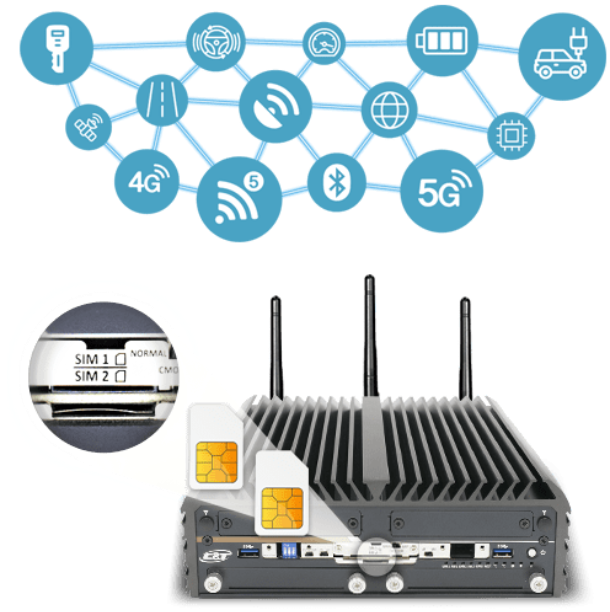 Successful Deployment Applications For In-Vehicle Computers
Railway, Public Transportation

Fleet Management

Emergency First Response Services
C&T's in-vehicle computers are designed and manufactured with the latest Intel processing technology which feature several applications in modern transportation and advanced surveillance. Public transportation services employ in-vehicle computers to gather data that helps improve mobile video surveillance for public safety with intelligent camera systems for object tracking technology that can be linked to multiple data points gathered from IoT sensors. Its compact chassis and PoE capability allow greater flexibility for a custom rugged NVR deployment. Trucking fleet managers can utilize GPS and the signal processing capabilities of in-vehicle computers to monitor engine data in real-time through wireless communication to make informed strategic decisions when planning routes and maintenance repairs. Autonomous vehicles also rely on heavily specialized in-vehicle computers for powerful computation processing used in computer vision technology. These systems feature expansive cameras, sensors, and radar that generate massive amounts of data for in-vehicle computers to make decisions while navigating. Additionally, the ACO series in-vehicle computers offer IoT supported LTE connectivity that allow mission critical workforces, such as ambulances and rescue teams, to stay linked with hospital communications. Doing so minimizes life-threatening risks while saving crucial seconds in life or death scenarios.