Custom Built to Boost Applications: Modular Industrial Computers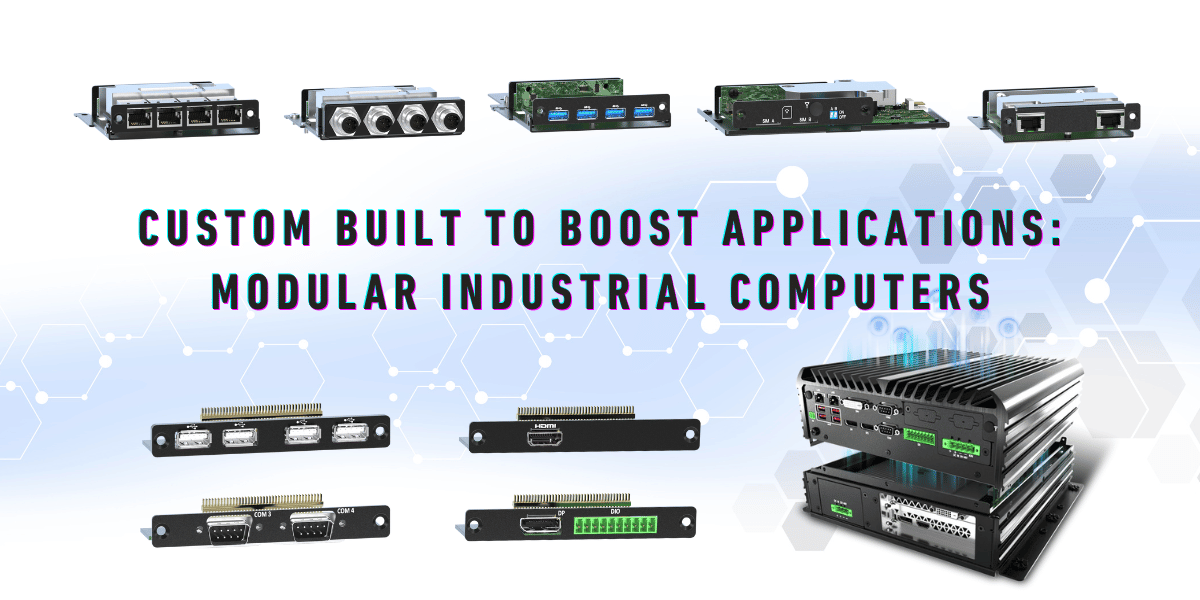 Reasons why modular industrial computers are a preferred choice, include: they are fast to produce, deploy and upgrade in an extensive network of embedded systems at the edge.

This blog will cover six features and benefits of modular industrial computers, the challenges of modular industrial computers, and C&Ts EDGEBoost series of modular industrial computers with expandable I/Os, storage, and performance.
6 Features and Benefits of Modular Industrial Computer
Customizable

Energy Efficient

Cost Effective

Faster Delivery Time

Quick Maintenance and Upgrades

Extended Product Lifecycle
Customizable
The competition for industrial hardware options is cutthroat. While the standardized "One-size-fits-all" industrial embedded computer option provided by manufacturers may seem to be the most straightforward and comprehensive option at first, it may cost more in terms of power and performance efficiency in the long run because standard industrial computers already have a fixed number of I/O ports. However, industrial applications with more unique I/O port requirements, such as legacy ports, only use a few I/O ports that the standard version offers. Then, they must install additional I/O expansion cards to cover their I/O port requirements. Thus, discretionary expenses derive from the unused I/O ports on the standard product and the other add-in I/O cards.
Modular industrial computers can help clear these inefficiencies through various modular options, including customized I/O ports and expandable storage and performance accelerators. In addition, optimizing your machine through the selection of dedicated I/O maximizes efficiency and factor cost, deploying more than one piece of industrial IoT modular devices.
Energy efficient
Modular industrial computers can be more energy –efficient by utilizing only the necessary components and expansion modules, resulting in lower power consumption. Optimizing energy usage through utilizing modular computers in your edge devices can assist in reducing strain on both the computer and its network through optimizing power consumption. Energy consumption is one of the main success factors for mobile, remote, and reliable deployments at the edge, which require 24/7 reliable performance.
Cost effective
Industrial modular computers are a cost-effective option due to reduced lead time on repairs and upgrades, resulting in more streamlined functions. Stability is paramount when deploying IoT devices at the Edge to ensure a consistent functioning network. Selecting modular I/O, and storage capabilities in your industrial computer leads to less time on upgrading hardware, avoiding long-term maintenance repairs resulting in a longer product lifecycle. Additionally, minimizing I/O connectivity ports can reduce the possibility of unused I/O maximizing estate, your modular computer's total hardware design space. Taking control of the design of your IoT hardware to respond to your unique industrial requirements, you brilliantly enhance and maximize the output of your embedded system. Finally,As the horizon of hardware technology transitions, modular options can reduce cost in the long run by replacing parts instead of whole systems.
Faster Delivery Time
Modular industrial computers are ready-to-deploy application solutions with a flexible choice of add-ons, making it a speedy application process. The modular parts and base computers are plug-and-play solutions that can be quickly customized and deployed for your edge AI solutions. Modular industrial computers are attractive for industrial projects requiring faster delivery time. Through expandable I/O connections, you can avoid long-production wait times to develop new products.
Quick Maintenance & Upgrades
The customizability of modular industrial computers leads to shorter lead time on maintenance and upgrades as modules can be quickly attached and detached when required. This makes maintenance of IoT systems less of a headache when dealing with hardware failures. In addition, you can replace modules Individually instead of having to replace a complete hardware system.
Extended Product Lifecycle
Following the above, modular industrial computer can predict more stability in your network of edge IoT systems through extended product lifecycles. Extended product lifecycles are an essential factor for enterprise-grade solutions. Devices are expected to run for extended periods, varying from 10-15 years, depending on your application demands and type. In addition, replacing modular parts instead of complete systems ensures stability in your industrial applications.
Challenges of Modular Industrial Computers
When designing and manufacturing industrial modular computers, a few challenges arise during this process including:
Complex Research and Development

Increased Capital Expenditure

Tougher Predictability for Harsh Environments



Complex Research and Development
When designing and developing a modular industrial computer, the R&D process requires careful planning and design. The components must be carefully selected to ensure compatibility as well as reliability when exposed to harsh environments. Additionally, the modular design must be flexible enough to accommodate a wide range of industrial applications, while still maintaining a compact and efficient design. Finally, the design must take into account the backwards compatibility, ease of maintenance and upgrades, which adds another layer of complexity to the overall research and development process.

Increased Capital Expenditure
Once the hurdle of research and development has been overcome, initial production costs for modular parts may be significantly higher as this process would require manufacturers to establish a new division to produce unique features and components. In addition, compatibility with the central so computered is For each module created, making it an entire process on its own.
Tougher Predictability for Harsh Environments
With more flexibility comes more responsibility in guaranteeing quality when fully deployed in harsh and unpredictable industrial settings. Certification of each modular part ensures the reliability of functions. In addition, the combability of the certification of modular components with the base computer must also be certified. That being said, C&T's modular solutions are fully certified by CE, FCC class A/B, UL certifications, and even EN50155 railway certification, ensuring reliability amid industrial deployments.

All these factors make developing a modular industrial computer a difficult, costly, and time-consuming process, but one that is necessary to meet the unique needs of industrial applications. Successfully overcoming the challenges of developing and manufacturing modular industrial computers, C&T introduces its innovative EDGEBoost Series technology to deliver robust and modular hardware solutions to the rugged edge.

Modular Industrial Computers through EDGEBoost Series
EDGEBoost Series is C&T's industrial modular technology that enables a more diverse edge application suited to your industrial needs. Through your choice of EDGEBoost Series modules, you can enhance your application's connectivity, performance, and scalability while withstanding harsh environments at the edge.

Here are the three modular EDGEBoost Series:
EDGE Boost Nodes

EDGE Boost I/O

EDGE Boost Bricks
EDGE Boost Nodes
The EDGEBoost Nodes (EBN) Series is dedicated to enhancing AI at the Edge through protocols such as PCI/PCIe, SATA Boost, NVME Boost and GPU Boost. EBNs can supplement your AI Edge Inference Computer, the RCO-6000 Series, with powerful performance accelerators to run intensive AI modles at the edge. The EBN can be attached easily to the lower portion of the RCO-6000 Series computers to allow quick performance upgrades, including:
EDGE Boost Nodes (EBN) configurations:
Up to 4x 2.5" U.2 SATA Storages (7mm/15mm)

Up to 8x NVMe 2.5" U.2 Storages (7mm/15mm)

Up to 2x PCIe/PCI Expansion Slots

Additional Power Supply for GPU Expansion

Optional RAID Card Expansion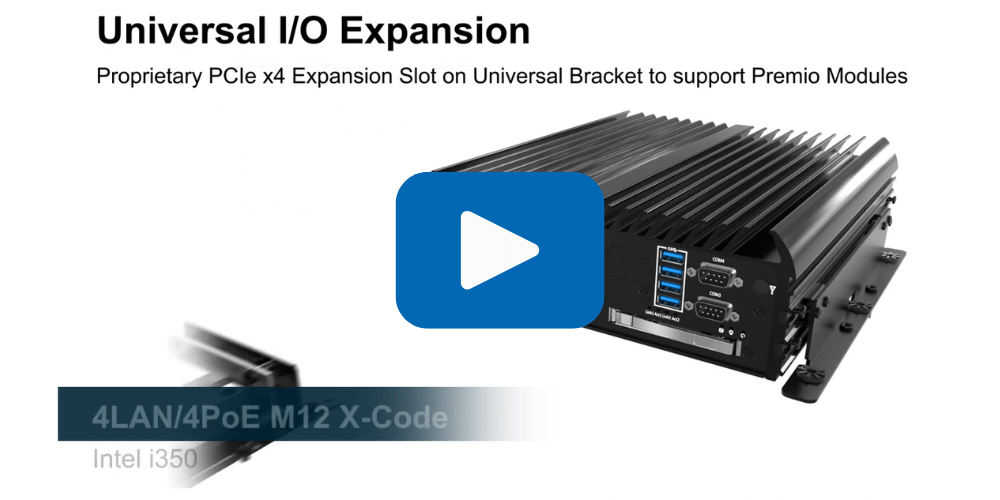 Explore Modular Industrial Computers with EBN Support



EDGE Boost I/O
Our EDGEBoost I/O (EBIO) Series offers a modular and scalable I/O port to our range of industrial modular fanless embedded systems. These modules were designed with PCIe interface for a streamlined and optimized, high-speed I/O configurations. EDGEBoost I/O modules match specific I/O requirements for robust connectivity in the harshest edge deployments.
Among the EBIO, there are a variety of options available to enhance your IIOT deployments at the edge, including:
4x RJ45/M12 GbE with optional PoE feature

2x 10GbE RJ45 ports

4x USB 3.0 Type A ports

Dual-SIM 5G Cellular module

5G and Storage/AI accelerator module

NVMe Storage/AI accelerator module

Explore EDGEBoost I/O Series



EDGEBoost Bricks
Our EDGEBoost Bricks (EBB) Series of "brick" modules are hot-swappable modules supported on the EDGEBoost Node Series (EBN). The EDGEBoost bricks provide SSD/HDD storage, backup, and upgrades, allowing more efficient data transfer and can execute AI at the Edge through training machine learning and deep learning models.

Depending on the EDGEBoost node model, a variation of cannister bricks can support:
4x 2.5" U.2 SATA/NVMe Hot-Swappable Storages (7mm)

2x 2.5" U.2 SATA/NVMe Hot-Swappable Storages (15mm)
Key Features:
Hot-Swappable Storages

Safe-Ejection Button

Safety Brackets

Anti-Teft Safety Lock

For added security features, our EBB Series are tool-less, hot-swappable, and lockable with a dedicated button and LED light provide status indication for when the bricks can be safely ejected and undocked for data offload.

Explore Our Product Solution Guide 2023