C&T Solution Received its Fifth Consecutive 2023 D&B TOP 1000 Elite SME Awards 
C&T Solution Received its Fifth Consecutive 2023 D&B TOP 1000 Elite SME Awards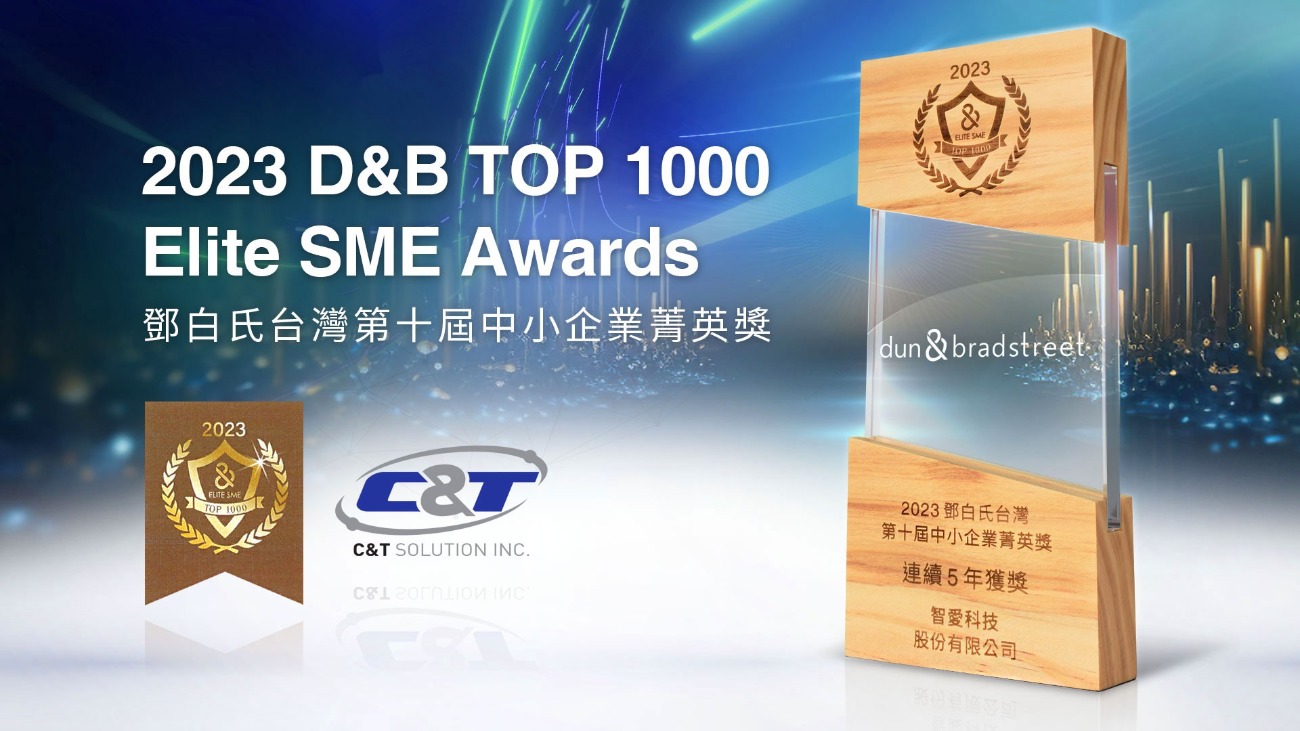 C&T Solution is proud to announce that we have received the prestigious 2023 D&B TOP 1000 Elite SME Award, marking our fifth consecutive awards. Recognized as Taiwan's premier annual event, the D&B TOP 1000 Elite SME Awards celebrate the exceptional accomplishments of small and medium-sized enterprises. For 2023, the Dun & Bradstreet SME Elite Awards are poised to celebrate a significant milestone: a decade of recognizing business brilliance. Upholding the "Power of Data", this award serves as an unwavering beacon for enterprises worldwide. It guides businesses in implementing robust data governance, equips them for ESG readiness, fortifies business resilience, assists in navigating international challenges, and paves the way for a sustainable operational future.
"We are truly honored to be recognized for the fifth time at the 2023 D&B TOP 1000 Elite SME Awards. Despite facing post-pandemic challenges and economic fluctuations, C&T has grown faster than ever, and this award is a testament to our relentless dedication. Once again, thanks to D&B organizers for this recognition. To the C&T Team, your dedication, passion, and persistent effort have been the backbone of our success. Each of you plays a crucial role in our achievements. Thank you all for your hard work and collaboration. Together, we shine brighter," shared by Eric Mao, Vice President of C&T Solution.
As a leading Industrial Computer Manufacturer, we understand the paramount importance of data in steering transformative shifts in the industry. Tapping into the transformative potential of data is central to our operational strategy as we navigate the complexities of the industrial solutions market. Moving forward, C&T is poised to solidify its position as your premier partner for state-of-the-art industrial hardware solutions.
Celebrating a Decade of Excellence: The 2023 Dun & Bradstreet SME Elite Awards
In today's rapidly evolving business landscape, harnessing the power of data to drive transformative change has emerged as a pivotal global business strategy. Companies are leveraging diverse channels to spotlight their unique strengths and assets. Yet, when assessing a company's aptitude in riding the digital wave, unbiased and consistent evaluation data remains paramount. The Dun & Bradstreet SME Elite Award, since its inception in 2014, set a groundbreaking precedent by capitalizing on the vast resources of the world's most extensive business database. Employing rigorous professional indices and analysis, this esteemed award identified and honored the top 1,000 enterprises boasting unmatched export competitiveness. These elites were distilled from over a million SMEs in Taiwan, with a noteworthy 5,000+ enterprises gaining visibility on the international stage.
Learn more about us