Five Benefits of Smart Cities and How They Are Related to IoT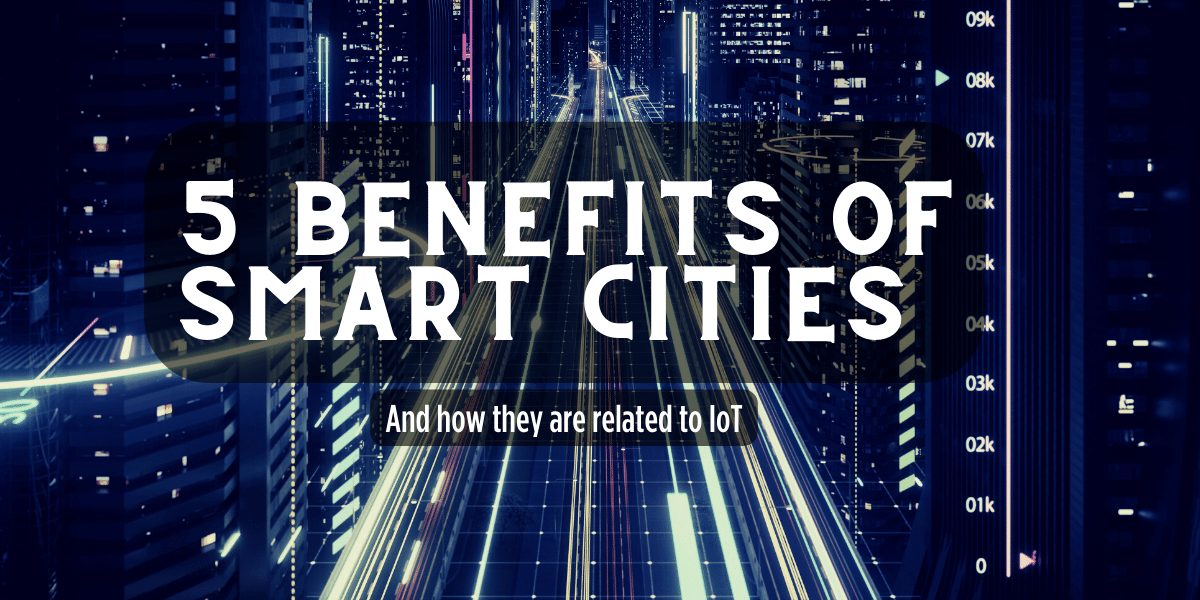 What Are Smart Cities?
A smart city is a city that facilitates public services and improve citizen livelihood through automating operations that efficiently manage resources, execute tasks, and improve city infrastructure through IoT-based solutions
. IoT solutions in smart cities collect and analyze data through sensors, actuators, and smart devices at the

edge

. These devices exchange information through edge and cloud computing, continuously monitoring data to provide better transport services, promote digital equity, increase security, reduce carbon emissions, and improve citizen health and wellbeing.
Five Benefits of Smart Cities
Efficient Transportation

Digital Equity

Increased Security

Low-Carbon Emission Technology

Improve Citizen Health and Wellbeing
1. Efficient Transportation
A benefit of a smart city is increased efficiency of public transportation through real-time data analytics of vehicular traffic. An example would be "connected cars", refering to intelligent transit systems that provide location data for navigation and traffic management. To achieve this, sensors and cameras are installed at locations such as bus and train stations, and on the vehicles themselves which allow traffic managers to monitor commuters and car traffic, allowing for accurate forecasts and minimise congestion on public roads.
2. Digital Equity
Digital equity is a term that refers to individuals and communities who fully participate in the city's democracy, society, and economy through internet access and smart devices.
Smart cities enable civilians to input data regarding public and private services through mobile devices using the internet, such as real-time updates and immediate feedback regarding city services. As data and governing functions become increasingly decentralised, more opportunities for collaboration and self-services make smart cities an attractive place to stay. Digital equity could increase trust and satisfaction between parties as feedback and opinions are easily exhanged.
3. Increased Security
Another benefit of smart cities is increased security through visibility of hidden and remote areas, leading to safer neighborhoods via accessible surveillance. Through real-time monitoring by IoT devices, emergencies and accidents can be resolved at faster speeds. Examples of real-time monitoring include car-plate recognition systems and live-video analysis for security cameras.
4. Low-Carbon Emission Technology
Smart cities utlilise low-carbon energy resources and are able to monitor energy consumption rates. This allows smart cities to conserve and manage limited resources. Smart grid solutions and

IoT gateways

play a key role in energy resources of a smart city, as they help to monitor and manage decentralised energy sources. Examples of eco-friendly energy sources within smart cities would be smart streetlamps, rooftop photovoltaic units and wind generation units.
5.

Improve Citizen Health and Wellbeing
IoT devices can help to improve citizen health by monitoring levels of pollution in smart cities. Smart cities can detect problems around high-pollution areas and take measures to tackle these issues before they develop. Alongside digital equity, citizens can contribute towards tackling pollution issues, leading them to become active members in society. Thus, collection of big data in smart cities can improve citizen health and wellbeing through identifying concerns allowing for more robust decision-making by smart city managers.
What Does A Smart City Need?
Seamless Infrastructure

Scalable Integration

Data Analytics Competency
1. Seamless Infrastructure
A smart city would require the necessary digital infrastructure to seamlessly integrate a network of devices inclusive of sensors, actuators, smart devices, powered by IoT Edge and Cloud computing applications to provide a solid foundation for a city to begin its transition into a smart city. This could be reffered to as "smart infrastructure", where a combination of software and and hardware systems provide a management of functions and services of a city through technological tools that help to collect and analyse big data to meet a smart cities' goals of efficiency, sustainability and productivity.
2.

Scalable Integration
Due to a city's large scale of operations, smart infrastructure must be scalable to meet growing capacities. Data storage and processing capabilities must be prepared for continuous development and maintenance as processes continue to add on to the infrastructure. These can be guaranteed through rugged-edge hardware to promote longevity of functions in demanding environmental requirements of a smart city.
3.

Data Analytics Competency
When digital infrastructure and scalabilty is in place, data would continue to grow, challenging the ability of smart cities to compile and analyse IoT data in substantial amounts. This process must be devoid of failure as they deploy mission-critical smart city services and functions. In addition to the physical infrastructure, data analytics competency is a core principle of smart cities, which comprises of the basic element of data (the raw material), analytics (the relevant information obtained to inform decision-making), followed by a feedback loop (information that is retrieved regarding the usage of assets that improve system operations), and adaptibility (meeting current and future needs of a smart city).

Challenges of Smart Cities
1. Privacy C

oncerns
As more personal details are shared, privacy and security continues to be a topic of concern in the future of smart cities. Governing bodies and organisations who collect sensitive and vulnerable data must prove that data collected is essential to smart city functions and includes the consent and awareness of the purpose of collection clear by data originators.
2.

Cybersecurity Risk Management
Cyber-attacks continue to pose a major threat to smart cities as it could compromise essential smart-city services, and threaten the security and safety of smart-city dwellers. An example includes a cyber-attack that could lead to a halt in operations by locking service workers out of their computer networks and systems until a ransom has been paid. Therefore, cybersecurity risk management practices should be in place for every smart city deployment.
Smart City Technologies
As smart cities require heavy real-time computing and analysis at the edge, the following are some technologies that assist in the development and application of smart cities.
Geospatial technology

Cybersecurity
How Close Are We To Smart Cities?
Bearing in mind the above benefits, needs and technology of smart cities, some cities are better equipped to embark on their digital transition. Examples of smart city deployments today include Singapore, Helsinki, Zurich, Auckland, Oslo, Copenhagen, Geneva, Taipei City, Amsterdam, and New York. Smart cities strive for technological advances and adapts to the pressures of global warming whilst answering the needs of users. Furthermore, as data and processes become increasingly decentralized, public participation will play a key role in defining the trajectory of smart cities of the future and their ever-changing developments.
C&T Solution Inc. Makes Smart City Applications Possible
We offer a series of customisable industrial computers capable of executing edge computing functions whilst withstanding extreme temperatures and high shock durability, making them smart-city application ready. Capable of

large scale applications, o

ur fanless RCO-1000-EHL-10 Series can rise to your automation demands.
The

RCO-6000-CML

Series is C&T's AI Edge Inference Computer with 10th Gen Intel® Core™ and Intel® Xeon® W Processors, including high customizability with I/O connections, high-performance graphics, features and power, and a wide temperature range and shock durability.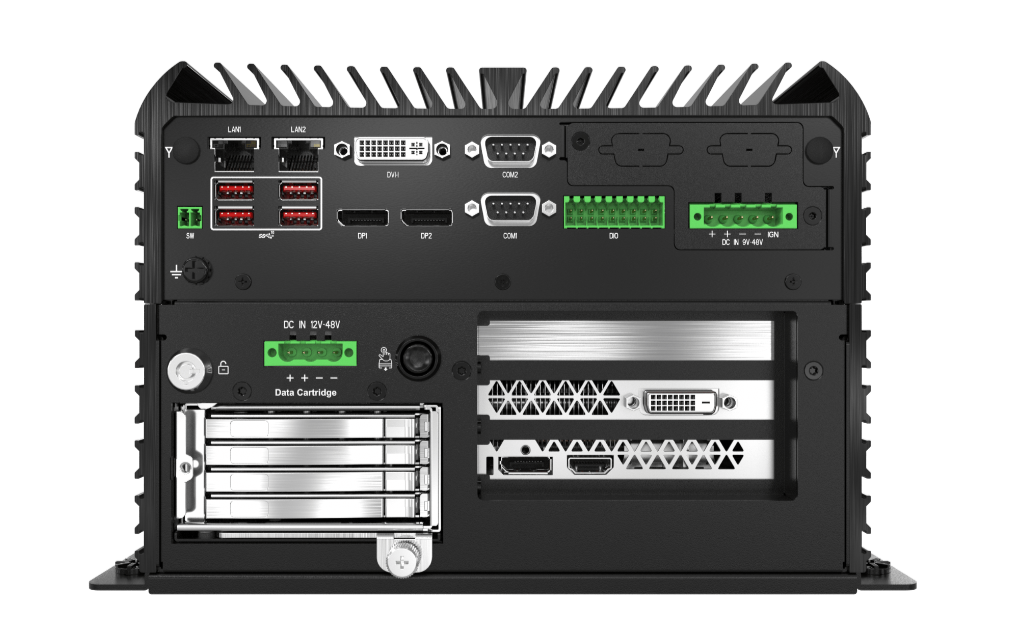 RCO-6000-CML Series
Key Features:
LGA 1200 socket for 10th Gen. Intel® CML S Processor (65W/35W TDP)

8x RS-232/422/485 (6x internal), 6x USB 3.2 Gen 2, 3x USB 3.2 Gen 1 (1x internal)

2x DDR4 2666/2933MHz SODIMM. Max. up to 64GB

2x Intel® GbE supporting Wake-on-LAN and PXE

1x PCIe x16 and 1x PCI Expansion

TPM 2.0 Supported