Home
News&Events
News Release
C&T Solution Unveils Insights from Automation Expo 2023, India: Trends and Transformations in Industrial Automation
C&T Solution Unveils Insights from Automation Expo 2023, India: Trends and Transformations in Industrial Automation
C&T Discoveries in the Automation Expo 2023, Mumbai, India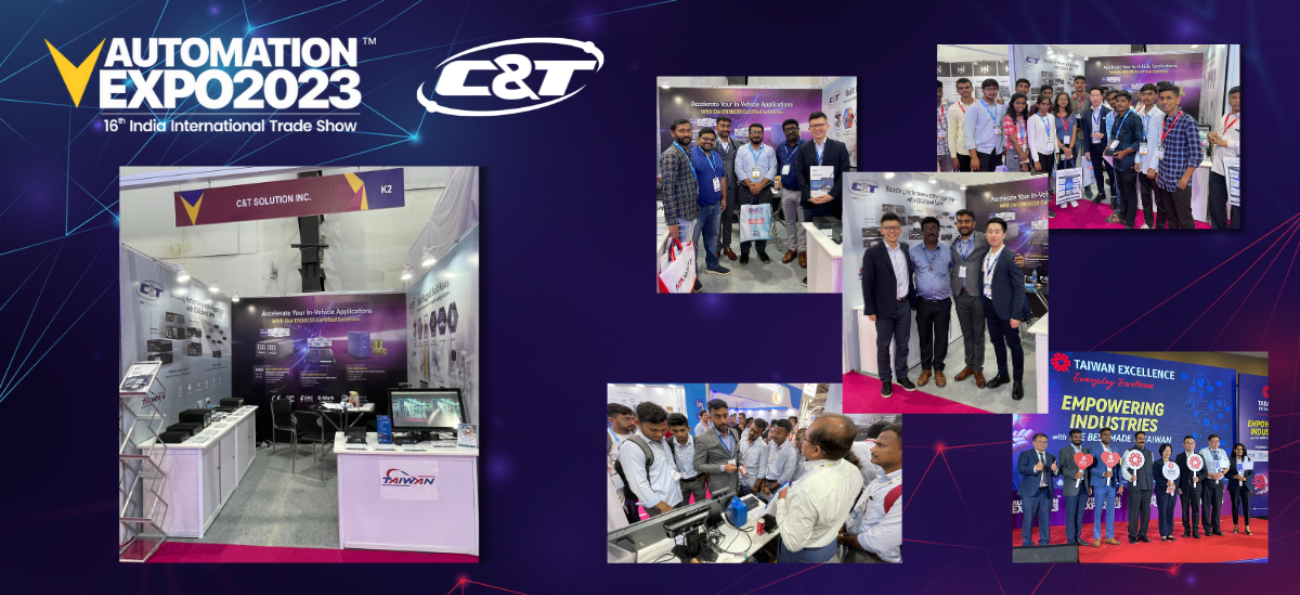 C&T Solution, a world-class industrial computer manufacturer, made a resounding mark at Automation Expo 2023 held in Mumbai, India. The event, renowned for its spotlight on industrial automation and cutting-edge technologies, proved to be an excellent platform for C&T Solution to demonstrate its industrial computing solutions expertise and delve into key market trends.
The Indian market has witnessed an unprecedented surge in the adoption of AI, industrial automation, and edge computing solutions. This growth has been instrumental in reshaping various industries, from manufacturing to logistics. C&T Solution's active participation shed light on the correlation between these burgeoning trends and the increasing demand for industrial-grade computers tailored to meet the demands of the evolving landscape.
C&T Key Findings
The demanding shift is towards replacing standard computers with robust, fanless industrial-grade computers.
The surge in AI applications necessitates top-tier AI accelerators for high performance.
Customization flexibility is essential to align with unique solution needs.
Delivering cost-effective solutions with rapid turnaround times remains a core strength.
During the expo, C&T Solution's team identified several pivotal takeaways that resonate with the changing dynamics of the industry. C&T Solution recognized the necessity to replace standard computers with fanless, industrial-grade counterparts. These ruggedized computers are engineered to withstand harsh environmental conditions while maintaining peak performance, offering a dependable solution for critical operations.
Furthermore, as AI applications continue to proliferate, the need for high-performance AI accelerators has become paramount. C&T Solution's commitment to innovation was evident in their showcasing of advanced AI-accelerated M.2 modules and GPU industrial computers, perfectly aligned with the market's demands.
Personalization emerged as a significant trend during the expo. With diverse industries seeking tailored solutions, the ability to offer customization flexibility became a key differentiator for C&T Solution. Their range of industrial computers, panel PCs, panel displays, SBCs, and industrial motherboards are designed for seamless integration into numerous specific industrial applications.
A common challenge observed was the urgency for cost-effective and rapid solutions without compromising quality. One key differentiator that solves this challenge is the variety of highly modular standard products that C&T offers, which allow low-cost customization and fast delivery time. C&T Solution's emphasis on delivering reliable, high-quality industrial computers within tight timeframes was well-received by expo attendees, reinforcing the company's commitment to being a trusted partner for clients in need of efficient solutions.
C&T Solution's participation in Automation Expo 2023 has been truly enlightening. We are excited to witness the transformative potential of AI, industrial automation, and edge computing in India. Our key insights affirm our commitment to providing cutting-edge industrial computers that cater to these burgeoning needs. As a result, we're even more dedicated to delivering innovative, customized, and efficient industrial computing solutions that empower businesses in this dynamic landscape.
by Jordy Alvaro K. | Product Marketing Manager at C&T Solution
Stay Updated on C&T's Future Trade Shows
C&T Solution's presence at Automation Expo 2023 encapsulated a forward-looking vision for the industry, reaffirming the company's position as a trailblazer in the realm of industrial computing. Stay updated on C&T's News Release for future trade shows and events in your nearby location.