Home
News&Events
Blog
Windows 11 IoT Hardware Requirements- Should You Upgrade From Windows 10 IoT?
Windows 11 IoT Hardware Requirements- Should You Upgrade From Windows 10 IoT?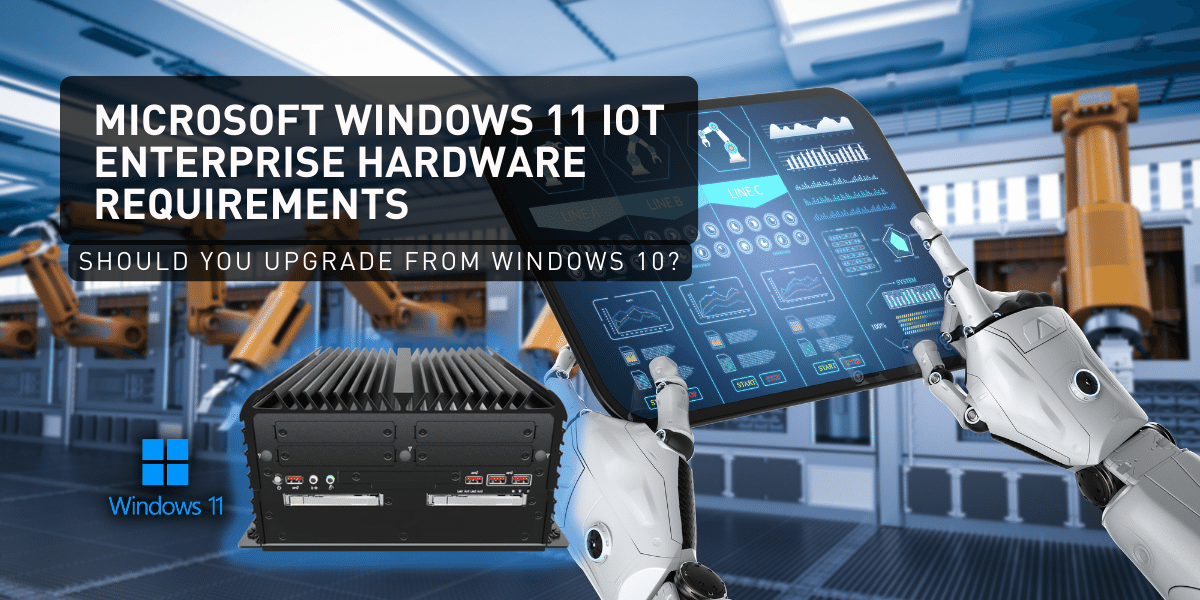 Upgrading a system for industrial-grade embedded computers to a new Windows version is far from simple. With the soon-available Windows IoT LTSC (Long Term Service Channel) version, it might be a time to consider a shift in your operating systems.
In this blog, we will cover the hardware requirements of Windows 11 IoT and evaluate whether it is worthwhile to consider the upgrade from Windows 10 IoT to Windows 11 IoT for Industrial IoT enterprises.
Windows 11 IoT Overview
For each Windows version, there are multiple options available such as Home, Business, and Enterprise users, each tailored to suit the needs of each target user. Embedded systems and industrial IoT-based applications would depend upon the Windows IoT Enterprise and LTSC (Long Term Service Channel) versions.
The Windows 11 IoT Enterprise aims to improve enterprises' embedded systems through new hardware features requirements including

USB 4.0

, Wi-Fi 6E, and

TPM 2.0

, accelerating AI-powered applications and performance through faster processing speeds and enhanced connectivity. Security through more rigorous hardware demands.is at the core of the update to protect the ever-growing data volumes.
Find out about Microsoft 11 IoT LTSC Here
Hardware Requirements of Windows 10 IoT and Windows 11 IoT Enterprise
The table below details the hardware requirements of Windows 11 IoT Enterprise, and contrasts it with the Windows 10 IoT requirements.
| | Windows 10 IoT | Windows 11 IoT |
| --- | --- | --- |
| Processor | 1 GHz clock speed (32-bit/64-bit) | 1 GHz (2 cores) or faster processor (64-bit) |
| RAM | 1 GB for 32-bit, 2 GB for 64-bit | 4 GB or more |
| Storage | 16 GB for 32-bit, 20 GB for 64-bit | 64 GB or more |
| Graphics card | DirectX 9 or later with WDDM 1.0 driver | DirectX 12 compatible graphics card or later with WDDM 2.0 driver |
| Display resolution and cable | 800 x 600 or higher resolution (VGA, DVI, HDMI, DisplayPort) | 1366 x 768 or higher resolution (HDMI 1.4 and later, DisplayPort 1.2 and later) |
| TPM (Trusted Platform Module) | Versions 1.2 and 2.0 supported | Version 2.0 required |
| System BIOS & Firmware | Supports both UEFI (optional) and legacy BIOS | Requires UEFI firmware with SecureBoot |
| Interface upgrades | Traditional User Interface | New and modern user interface, improved touch support, and support for new input devices such as pen and voice. Streamlined and intuitive for enhanced user-experience. |
| Linux GUI Subsystem | Not available | Available |
In summary, Windows 11 IoT hardware support promises the following upgrades:
1. Enhanced Security
2.
Faster Connectivity
3.
Stronger Performance
4.
Advanced AI Capabilities
With the above advanced hardware requirements, there are many possibilities Windows 11 IoT can bring to your Industrial IoT applications, depending on the hardware you choose to upgrade. You can enjoy improved graphic displays, faster data processing, and utilize AI-powered applications. Windows 11 IoT also offers the latest version of Microsoft Edge AI, promising a smarter browsing experience.

Overall, the updates to hardware and software features in Windows 11 IoT Enterprise enable organizations to easily manage and deploy IoT devices, whilst providing enhanced security and scalability.
Internet Enabled Features for Windows 11 IoT
An internet connection is required when updating Windows 11 IoT. Without internet connectivity, the update process cannot proceed due to some of the update process involves downloading and installing files from the internet. Moreover, there are some built-in features that you can utilize when connecting your Windows 11 IoT devices online.

Windows 11 IoT Internet-Enabled Features:

1. Azure IoT
2. Microsoft Store
3. Edge Browser
4. Remote Desktop
5. VPN (Virtual Private Network)
6. Windows Update
7. Device Guard and Credential Guard
Should I Update My Software From Windows 10 to 11 IoT Enterprise?
Windows 11 IoT can drastically enhance user-experience through new interface updates and hardware enhancements. Plus, there is a sense of familiarity with the Windows 10 IoT user interface, which makes it easy for users and operators to navigate. Morevoer, Windows 11 is highly compatible with a variety of IoT devices and systems and can be customized to make it fit the specific needs of your organization, such as a customizable user-interface, configured security settings and integration with other systems and software making it a versatile choice.
In addition, the built-in enhanced security features of Windows 11 IoT would protect industries who rely heavily on cloud-based data against cyber threats. Windows 11 IoT would serve enterprises who rely heavily on cloud-based and embedded systems that process data in real time, and require stronger computing capabilities to improve efficiency, productivity and more robust decision-making.
Industries that benefit from Windows 11 IoT Enterprise
Windows 11 IoT Enterprise offers several benefits for various industries, including:

Healthcare: manage patient data, monitor medical devices, improve patient care;

Transportation: monitor vehicle performance, track shipments, optimize logistics and supply chain management;

Retail: track sales, manage inventory, improve user shopping experience, analyze customer data;

Manufacturing: to monitor production processes, manage inventory and supply chain;

Agriculture: monitor crop growth, optimize irrigation, optimize harvest yields;

Energy: Optimize energy usage; optimize energy distribution; improve safety of operators.
Azure Marketplace B2B Software Solutions
Following a shift to Windows 11 IoT, your enterprise may look at the many B2B products available at Azure Marketplace for sofware management systems suited to each industrial IoT needs.




Why You Should Not Update To Windows 11 IoT? At Least Not Yet.
Without the necessary hardware already in place it may be costly to begin making this transition, and shifting your embedded eco-system to Windows 11 IoT Enterprise before the LTSC is available means that long-term software updates and support would not be provided before its release at the end of 2023. Without the LTSC version available, it would require more regular security updates and servicing over a specified period of 5 years, as opposed to the earlier 10-year LTSC time frame for Windows 10. So, it would be advisable to wait for the Windows 11 IoT Enterprise LTSC release before considering a shift to ensure that your system remains reliable and secure.

On the other hand, if your embedded systems are running smoothly on the Windows 10 IoT ecosystem and you don't forecast a heavy processing demand in your industrial applications, shifting to Windows 11 IoT may not be a priority. After all, Windows 11 was built on the foundation of Windows 10 with a slight improvement in connectivity and security, so skipping would mean you are not missing out on alot.
C&T Solution Inc. Provide Hardware Ready Industrial Computers For Windows 11 IoT
If you feel that your industry is heading towards the latest OS and are looking to upgrade your systems to operate on the Windows 11 IoT Enterprise eco-system to possess higher graphic capabilities, stronger processing power, and added security, you can start looking into some hardware with Windows 11 IoT support. C&T is launching its next-generation AI Edge Inference Computer, the RCO-6000-ADL which is set to be released soon in Q2 of 2023. The RCO-6000-ADL is a fanless AI Edge Inference Computer that meet the hardware requirements of Windows 11 IoT, more details below:

Key Features:
LGA 1700 socket with 12th Gen. Intel® ADL-S Processor (65W/35W TDP);

Intel® R680E chipset;

Intel® UHD Graphics 770/710;

2x DDR5 4800MHz SODIMM. Max. 64GB (ECC/non-ECC);

PCIe 4.0 Interface: 1x M.2, 1x mPCIe, 1x each for PCIe x16/x4/x1 slots;

2x 2.5 GbE

2: Intel I225 (Wake-on-LAN, PXE, and TSN);

Triple Independent Displays: 1x DVI-I (WUXGA), 2x DP (8K UHD);

9 to 48VDC Wide Range Power Input Supporting AT/ATX Mode;

Wide Operating Temperature -25°C to 70°C;

2x EDGEBoost I/O for USB, PoE, M12, 10GbE, 5G, NVMe, and M.2 AI expansions;

TPM 2.0 for Windows 11 IoT and hardware level encryption;
Checkout our current
AI Edge Inference Computer
What's Next For Windows 11 IoT Updates?
The future updates are likely to focus on improving the security to protect against cyber threats, device management and compatibility for a wider range of applications, increased connectivity and customization to better support the specific needs of different industry be capable incapable applications. important for IoT devices, as it allows for faster processing and analysis of data. Updates to Windows 11 IoT may include new features to support edge computing, such as improved support for AI and machine learning on the device, or better integration with edge forms computing platform.