What Does an IP67-Rating Mean?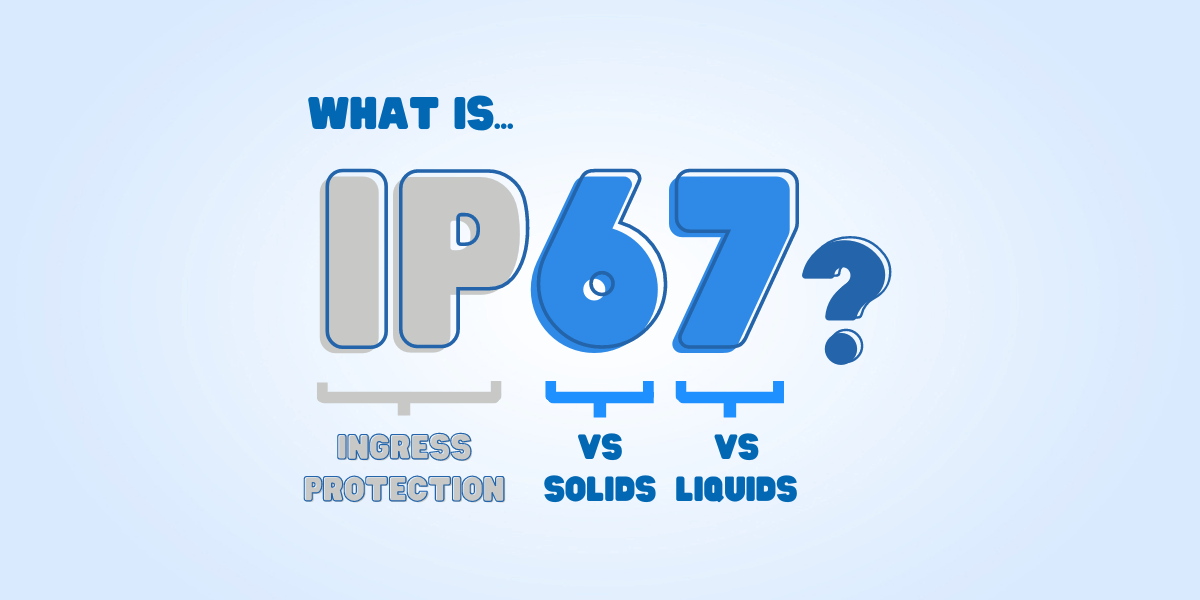 When looking for "waterproof" solutions, you may consider IP rated systems. A common IP rating found on the market are IP67 ratings. To ensure you match the right solution with your application needs, it's important to break down the meaning of IP67 ratings. In this blog, we will define IP Ratings with a specific focus on IP67, what is meant by IP67, and some examples of applications of

IP67-rated products

.
What Does IP67 Mean?
If you intend to purchase computers and place them in areas where frequent wash-downs occur or exposure to elements of water, you may require computers that come with enclosures rated IP67. IP67-Rated enclosures provide high-level protection due to their high water and dust ingress protection ability.
The first digit of IP67 (6), is the highest level of protection against solid ingress, such as windblown dirt and other airborne solid materials that are invisible to the naked eye. Combined with their high-level water-ingress protection indicated by the second digit (7), IP67-rated enclosures are able to withstand waterhose and jet sprays and can sustain momentary water immersion in depths of 150mm to 1000mm up to 30 minutes maximum. IP67-rated enclosures are guaranteed to function in indoor, outdoor, w and demanding industrial and commercial settings.
Why Are IP67 Ratings Important?
When deploying computers in an environment with constant exposure to dust and water, an IP67-rated computer can instill confidence to perform without failure. An IP67-rated enclosure can facilitate in mitigation of risks, accidents and repair costs through their guarantee in high-level protection. If you intend to deploy computer systems within settings exposed to elements of water and unpredictable weather, IP67-rated computers can provide a peace of mind.
Are IP67-Rated Enclosures Waterproof?
Products with an IP67 Rating are waterproof due to their high levels of both solid and water ingress. IP67-rated products provide more protection than IP65 and IP66-Rated products, commonly referred to as 'water-resistant' than 'waterproof'. Because of this that IP67, and higher IP-rated products are sought after for a variety of challenging industrial applications.
Where Are IP67-Rated Enclosures Used?
In Industry 4.0 and the continuation of automation in processes and operations, computer hardware are expected to maintain functions wherever deployed and require proof that they're able to withstand demanding environments. Settings where IP67-rated products may be applied include:
Business applications such as car-wash automated counters, kiosks;
Security applications such as outdoor surveillance cameras;
Agricultural applications, such as equipment for automation of agricultural technologies eg, irrigation systems;
Factory/Building automation applications in harsh factory conditions where there may be many foreign articles such as dust, oil, and food particles, and require water resistance due to washdowns;
Pharmaceutical and medical applications such as medical devices with attached

panels and screens

;

Laboratory settings that require consistent cleaning and exposure to cleaning chemicals.



More About IP Ratings
| | | | |
| --- | --- | --- | --- |
| First Digit | Solid Protection | First Digit | Liquid Protection |
| 1 | Secure from solid objects bigger than 50mm | 1 | Secure from vertically dripping water when product is upright |
| 2 | Secure from solid objects bigger than 12.5mm | 2 | Secure from dripping water when product is tilted up to 15 degrees from upright position |
| 3 | Secure from solid objects bigger than 2.5mm | 3 | Secure from spraying water with product tilted up to 60 degrees from upright position |
| 4 | Secure from solid objects bigger than 1.0mm | 4 | Secure from splashing water from any direction |
| 5 | Dust cannot ingress in an amount sufficient to affect the normal operation of the device | 5 | Secure from water jets projected from a 6.3mm nozzle at 12.5 liters per minute |
| 6 | Dust tight; dust cannot ingress | 6 | Secure from powerful water jets projected from a 12.5 mm nozzle, 100 liters per minute |
| | | 7 | Secure when immersed in water up to 1m for 30 minutes |
An IP Rating, also known as Ingress Protection Rating, is an international standard that was developed by the International Electrical Commission (IEC 60529), used to classify the rate of protection of electronic product enclosures against foreign bodies such as dust, water and intrusion of objects, including accidental contact with foreign bodies.
IP Ratings consist of the letters 'IP', followed by two digits that indicate the classified protection level. The first digit following 'IP' refers to the level of protection an object has against solid foreign objects such as dust and fingers, to protect the hazardous parts of the electrical component, such as electrical semiconductors. This rating is rated from level zero to six (0-6), where zero (0) means it is not protected, and six (6) is the highest level of rating against the ingress of dust. Dust and solids are measured by particle sizes ranging from 50mm, 12.5mm, 2.5mm, 1.0mm particles, and can be compared to wind-blown dust, light fibers, and other air-borne solid objects. Level 6 , the highest level of solid-ingress protection, is also known as "dust-tight".
The second digit of an IP Rating refers to the rate of protection of the internal electronic component against water ingress. This can range from light water sprays, up to more powerful and larger volumes of water, even submersion in liquid. Protection against water ingress can vary from zero to nine (0-9). The lowest level of water ingress protection indicates that the electrical component is protected from light water jet sprays from any direction. IP-Ratings waterproof tests are conducted in controlled environments with a 12.5mm or 6.3 mm nozzle. The water pressure is then altered and applied to certify various levels of water tightness.
Although IP Ratings dictate the level of protection against dust and water ingress, making computer operations more predictable in outdoor/indoor applications, it is not guaranteed protection against UV Rays. Additional UV protection would be required for electrical enclosures in areas that are exposed to the sun.
IP-67 Ratings vs NEMA Enclosures
Like IEP, NEMA (National Electrical Manufacturers Association) is another organization who created standards for ingress ratings. NEMA ratings are the North American version of IP ratings. NEMA also rates industrial enclosures based on their ability to prtoect electronic appliance internals against their external environments. Although they are comparable, they
are not identical as the testing conditions vary. NEMA also includes ratings for additional protection against corrosion and atmospheric gases.
NEMA enclosures tend to be larger and used in industrial settings within harsher environments. It is possible to place an industrial computer without an IP rating within a NEMA enclosure, however they tend to be more costly and take up space which may not be suitable for some industrial applications. For some applications, where a compact-sized rugged computer is involved, a high IP-rated enclosure such as IP67 would make for a simpler solution.




C&T's IP67-Rated Computing Solutions
Whether your application needs protection from factory-floor washdowns, dust or rain, or other airborne foreign materials, C&T's IP-Rated enclosures will do the job. Our products have undergone rigorous testing at our in-house labs, ensuring that they are able to maintain high connectivity and functioning across a wide range of environmental stressors such as extreme temperatures, weather conditions, shock and vibration resistance and a wide voltage input.
WCO-3400 Series Fanless Embedded Computer
With a tight-sealed IP67 Rated Enclosure,
the

WCO-
3400

with
customizable I/O is C&T's range of waterproof fanless embedded systems designed for reliable dust and water resistance in a wide range of challenging industrial environments for mission-critical applications. If you are Unsure about the best IP rating
for your application,
contact us
today.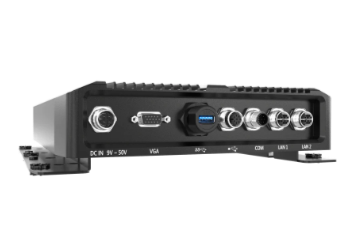 WCO-3400 Key Features:
IP65/IP67 Rating

M12 Connectivity (Customizable EdgeBOOST I/O)

7th Gen Intel Core i5 and i3 Dual-core Processors

15W Thermal Design Power (TDP)

Intel HD Graphics 620 with 4K

Support 9 to 50 VDC Power Input supporting AT/ATX mode

-40°C to 70°C Operating Temperature