KCO-6000-CML
Superior AI Edge Industrial Computer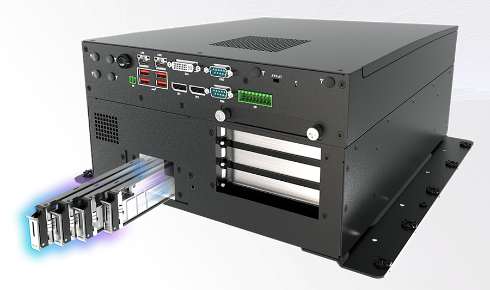 The KCO-6000-CML is a Superior AI Edge Industrial Computer with 10th Generation Intel CML S / Xeon-W Processors and W480E Chipset support. The KCO-6000-CML Superior AI Edge Industrial Computer supports Full-Size GPUs, NVMe SSDs, and SATA storages, allowing systems to process and analyze large volumes of complex data to drive AI functions at the edge.
Full-Size PCIe x16 GPU
ECC Memory Support
NVMe/SATA SSDs
Embedded Power Adapter
Superior GPU Performance Full-Size PCIe x16 GPU Expansion

The KCO-6000-CML support superior GPU expansion to reinforce deep learning and inference analysis for machine intelligence at the rugged edge. The GPU expansion is supported with industrial-grade brackets to securely lock the GPU amid harsh deployments at the rugged edge.
KCO-6000-CML Performance Accelerators with PCI Express:
1x PCIe x16 (Full-Length GPU)
Up to 2x PCIe x4 Slots
2x Full-Size mPCIe Slots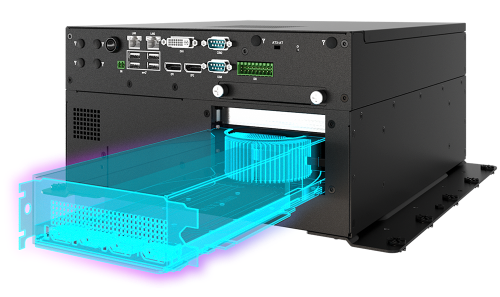 Connecting from the Rugged Edge

The KCO-6000-CML wired and wireless I/O flexibility allows workload consolidation for handling various digital and analog sensors.
Robust Wireless Technologies
Dual SIM Socket
5G/4G/LTE Cellular
Wi-Fi 6
Bluetooth 5
Rich I/O Configuration
6x USB 3.2 Gen 2 (10Gbps)
3x USB 3.2 Gen 1 (5Gbps)
Triple Independent Displays (2x 4K, 1x WUXGA)
8 in/ 8 out DIO
2x GbE RJ45
2x Universal I/O Brackets for Expansion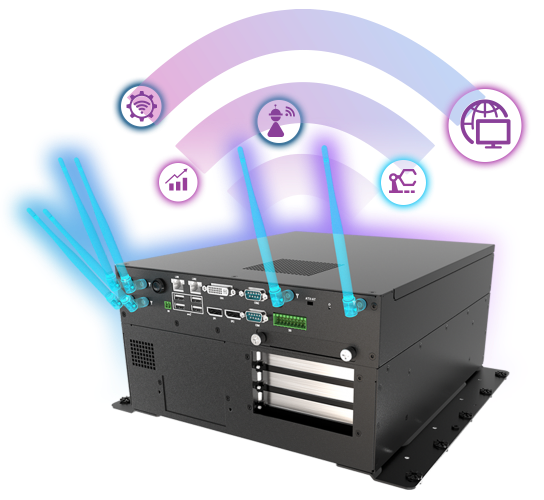 High-Speed Storage Primed for Edge Intelligence

High-speed data storage efficiently feeds integrated CPUs and GPUs with large volumes of data for complex applications.
Configure Hot-Swappable NVMe/SATA Storages
4x U.2 SATA SSD/HDD (7mm)
2x U.2 SATA SSD/HDD (15mm)
4x M.2 NVMe SSD (2280)

Industrial Grade Material Design

The KCO-6000-CML Series is designed, built, and validated with industrial-grade designs.
Wide Operating Temperature: -25°C to 70°C
10G Shock and 1Grms Vibration Resistant
Industrial-Grade Materials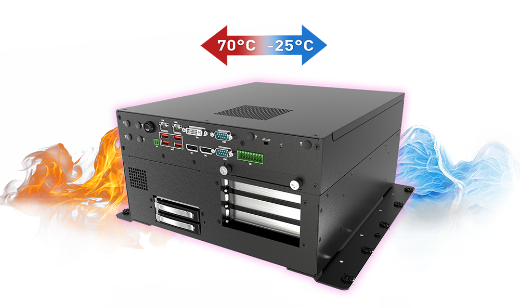 Embedded Power Supply Adapter

The embedded power supply adapter allows the KCO-6000-CML to provides power to the system and GPU from a single power source. The embedded power adapter supports 650W to 800W of power with 110V-240V AC input.