The Future of AI is Now: Computex 2023 Wrap Up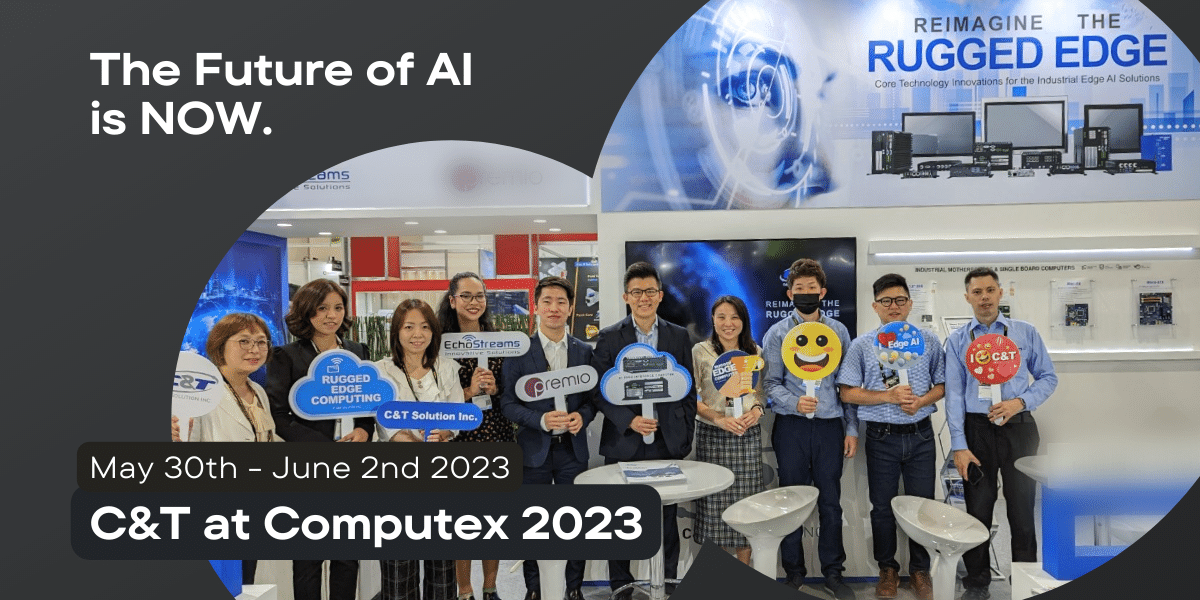 Computex 2023 returned to Nangang Exhibition Center, Taiwan this year from June 5 to June 9, 2023, and welcomed 1,000 exhibitors from 26 countries and regions including USA, Korea, Canada, France, Japan, Belgium and Italy. Technology industry leaders in hardware manufacturing from Industrial to Gaming technology were excited to participate in the first in-person event since the COVID-19 pandemic after the borders of Taiwan fully re-opened. The event attracted popular tech influencers from the likes of LinusTech, Monitors Unboxed, and Jarrod just to name a few. Visitors and exhibitors alike were buzzing with excitement.

Read on to discover the trends and themes observed at Computex 2023 including:
High performance processors

Transitions in architectures from x86 to ARM

Demand for higher storage

Autonomous systems powered by AI

Increased demand for cyber-security
Powerful, and Power-Efficient Processors
We saw a common trend of high-powered processors at Computex this year, where manufacturers boasted next generation CPUs from capable of executing AI models at higher power efficiency. Among the technologies we saw, there were high-performance supercomputers powering AI data centers from Gigabyte that uses NVIDIA Grace Hopper Superchip and H100 Tensor Core GPUs. These supercomputers are designed to accelerate AI computing, speed up large language models (LLMs) by an order-of-magnitude leap, materializing the shift from cloud-based operations towards the edge.

Some of these AI models are then optimized and scaled down to run independently at the edge. Companies like C&T Solution utilize NVIDIA GPUs and dedicated M.2 AI accelerators such as HAILO8 to run AI inferencing at the edge.
Check out our GPU and Hailo supported IPC
Transition in Architectures (from x86 to ARM)
Another trend we observed at the tradeshow was the widespread use of NVIDIA Graphics cards and the prevalence of ARM architecture across not just Personal PCs, but also industrial systems. ARM (Advanced RISC Machines) is not a new term in the market, they are desired for their cost-efficiency, low power consumption, and reduced heat generation than their competitors. Whilst ARM architectures were previously mainly considered for end-user products such as smart phones, laptops and tablets and other embedded systems, they are now powering industrial-grade computers and supercomputers. It's no wonder we witnessed their growing presence at Computex this year, unveiling its disruption of the OEM and ODM market. Manufacturers are starting to introduce a range of industrial edge AI computers powered by NVIDIA Jetson Orin.
High-Level Storage Systems
With high-level processing power comes higher demand for more robust storage systems. In case of higher storage requirements, we noticed a trend of high customization trickling down to industrial systems where proprietary expansion options can enhance a system's capacity, such as removable NVMe storage bays for efficient and robust storage. These compact but high-powered systems were accompanied by AI Accelerators, where we saw collaborations with HAILO, an AI accelerator provider, for powerful and cost-effective options when it comes to AI powered solutions.
Check out industrial computers with EDGEBoost Nodes with up to 8x NVMe SSDs, 3x SATA SSDs, and 4x M.2 NVMe SSDs
Increased Demand for Cyber-Security
Hardware providers presented options for more robust data storage from both the hardware compatible with equally secure software combability. From data-storage system providers, we saw options for Buffered RAM (RDIMM), a type of RAM memory for more robust data storage and security up to 4TB of RAM ECC memory from Transcend. As more data being is being collected and stored in real-time with the rise of AI, enterprises who intend to store personally identifiable or vulnerable company information like healthcare and governmental institutions may benefit from these advancements, such as TPM 2.0 (Trusted Platform Module) for Windows 11, a chip on the motherboard that provides extra security through encrypting data with cryptographic keys. C&T's industrial computers are built with discrete TPM 2.0 for hardware security encryption.
Check our soon-available TPM Supported, Windows 11 Compatible Computers
AI-Powered Autonomous Systems
On top of the high-spec components and systems on display, some were actively running AI-powered robots that roamed around the halls of Nangang Exhibition Center, completely independent of human operators and sparked curiosity from visitors and exhibitors alike. One of these was the air-purifier that disinfects and purifies the air of pathogenic bacteria using UV light from MSI, navigating the halls using real-time analysis of environment surroundings through camera sensors to avoid bumping into any objects or anyone. This was on top of AI Avatars we saw on display, that were capable of interacting in real-time with visitors. It looks like more robots and AI-avatars may be a thing to expect around your local shops and kiosks soon.
Check our Compact Intel 10th Gen CML computer for AI and mobile, fanless solutions
Some Products Showcased at C&T's Computex 2023 Booth


Explore WCO Series IP67-Rated Waterproof PC

Explore C&T's 1.8" and 3.5" AMD Single Board Computers