10th Gen Intel® Core™ and Intel® Xeon® W Processor
C&T's Inference Analysis and Powerful Machine Learning for Edge Computing. Real-time Data Analytics for Rugged Edge Deployments and Industrial Environments. Next Gen Edge Computing with High Performance NVMe M.2 Storage. It can help you deploy your solutions faster than ever.

10Th GEN INTEL® CORE™ AND INTEL® XEON® W PROCESSOR
RCO-6000-CML
AI EDGE INFERENCE COMPUTER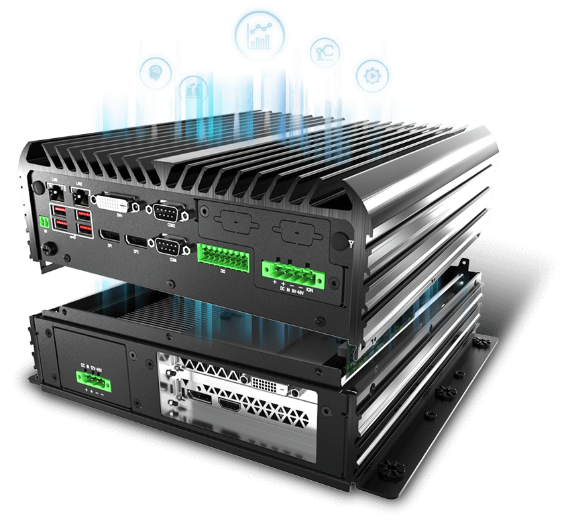 C&T has engineered the RCO-6000-CML with the latest processing technologies, including multi-core processors, ultra-fast storage, and AI accelerators, to push real-time processing to new boundaries at the rugged edge. As processing power shifts away from resources in the cloud, deployments in remote and mobile environments require ruggedized systems that can withstand exposure to environmental factors such as dust, debris, shock, vibration, and extreme temperatures. C&T's AI Edge Inference Computers are tested and validated to ensure reliable performance amid deployments in the harshest environmental settings.
10th Gen Intel® Core™ & Intel® Xeon® W processors with W480E chipset
Modular EDGEBoost Nodes for inference and machine learning workloads
Plug and Play Dual-SIM 5G cellular network module
Workload consolidation at the edge with versatile I/O
Ruggedized and Tested for rugged edge computing
Choose Your EDGEBoost Node
RCO-6000-CML AI Edge Inference Computer support modular add-on nodes for powerful inferencing capabilities and high-performance NVMe storage. Users can select specific nodes that provide high-speed NVMe storage, high-density SATA storage, and even GPU acceleration for machine learning and AI workloads.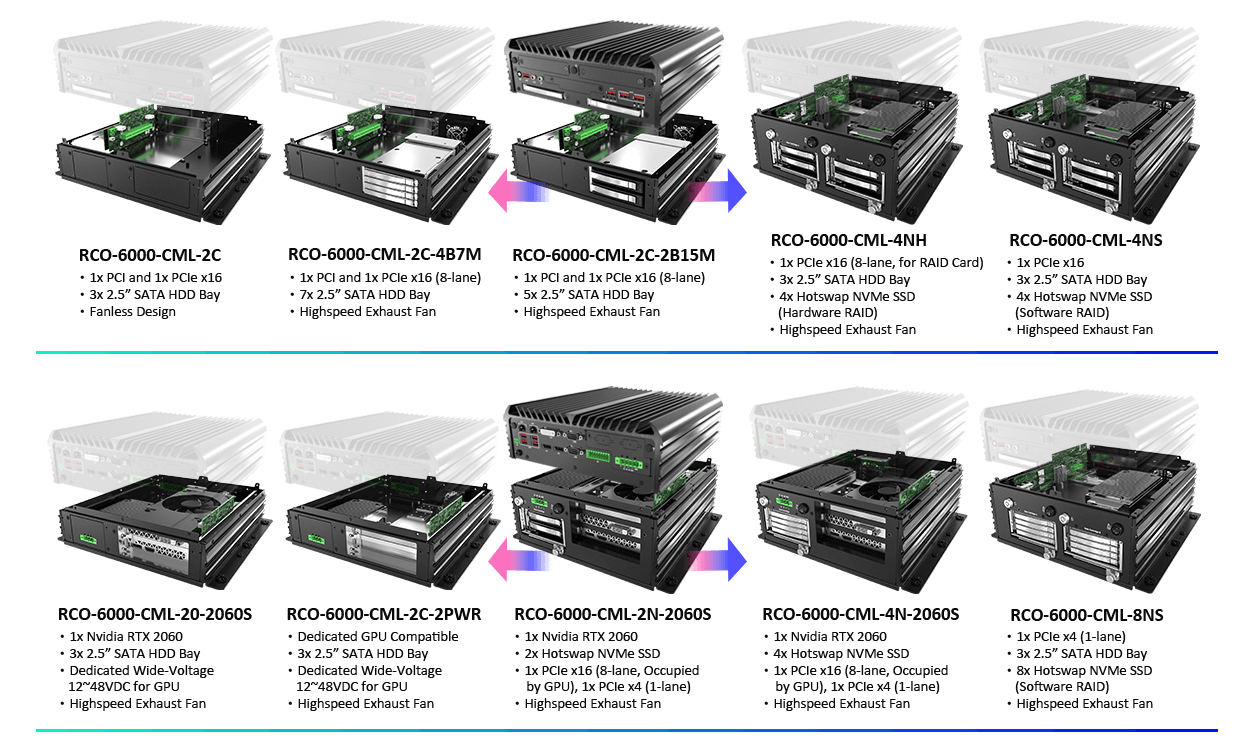 10th Gen Intel® Core™ and Intel® Xeon® W Processors
The RCO-6000-CML AI Edge Inference Computer leverages rich performance enhancements provided by Intel 10th Generation Core and Xeon-W processors with a W480E chipset. The processors ensure powerful and reliable performance benchmarks amid the most computing-intensive applications for mission-critical data acquisition and telemetry in edge computing deployments.

10th Gen Intel® Core™ (35W/65W TDP)
Up to ten hyperthreading cores
Intel® UHD Graphics 630
Intel® Xeon® W-1290TE (35W TDP)
Up to ten hyperthreading cores
Supports Error Correction Code (ECC) memory

Scalable and Versatile I/O
The RCO-6000-CML Series supports two universal I/O brackets to enable high-speed connections with low-latency data transmission for advanced industrial applications at the rugged edge. With diverse modular configurations, the computer's I/O flexibility allows workload consolidation for handling various digital and analog sensors.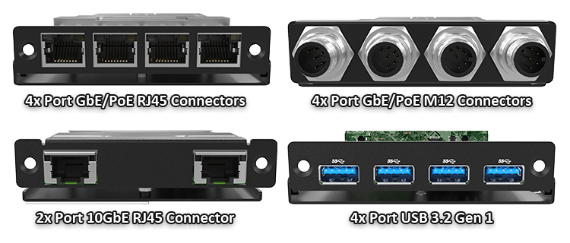 Remote and Wireless Connectivity from the Rugged Edge
The RCO-6000-CML Series enables seamless wireless connectivity for remote and mobile edge deployments. Systems feature high-end wireless technologies to reliably connect to sensors and network systems through a wireless IoT enterprise during remote and mobile edge deployments.
Wi-Fi 6
Bluetooth 5.0
Embedded Dual-SIM 4G/LTE cellular
Modular Dual-SIM 5G cellular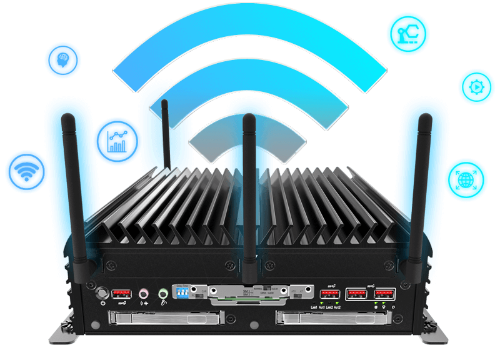 Inference Analysis and Machine Learning

The RCO-6000-CML AI Edge Inference Computers supports GPUs (graphic processing units), allowing systems to process and analyze large volumes of complex data to drive AI functions at the edge. AI edge inference computers are purpose-built for deployment in either controlled or dynamic environments to capture data from sensors, high-resolution cameras, and other devices and peripherals that use real-time data to enable machine intelligence.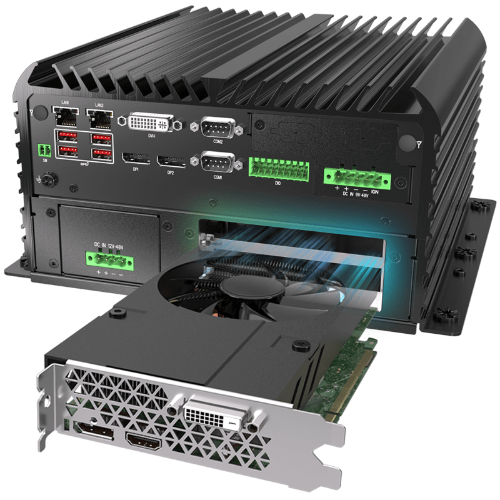 Redundant IoT Data Storage

The base system can be configured with 3x 2.5" SATA SSDs, 1x internal 2.5" SATA SSDs at 9mm height, and 2x external hot-swappable SATA SSDs at 7mm height. The external 2.5" bays permit toolless, hot-swappable replacement of the SATA drives, simplifying service, and capacity upgrades. The addition of NVMe canister bricks enables high-speed read and write speeds for mission critical data acquisition.
High-Speed NVMe storage
High-Capacity SATA storage
Hardware and Software RAID Availalble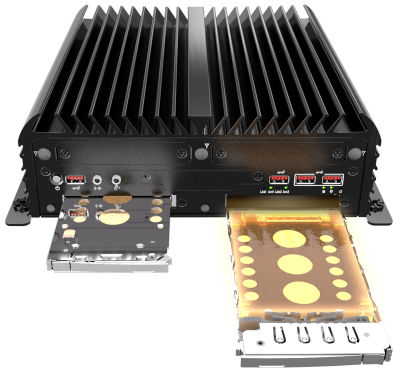 Data Bricks for Data Acquisition

Toolless hot swappable canister bricks can be quickly swapped, providing easy data management and enterprise redundancy for applications that use data for machine learning. Two removable canisters can be populated with up to four hot swappable U.2 NVMe SSDs, providing organizations with high-speed, solid-state storage at the edge and the ability to load and offload canisters for extremely quick data transfers. SATA SSDs models are also available to support high-capacity storage requirements.
Storage Options Include:
Hot swappable NVMe SSD Cannister Bricks
Individual 2.5" Toolless NVMe Drive Trays in 7mm/15mm
High Capacity 2.5" Toolless 7mm/15mm SATA SSDs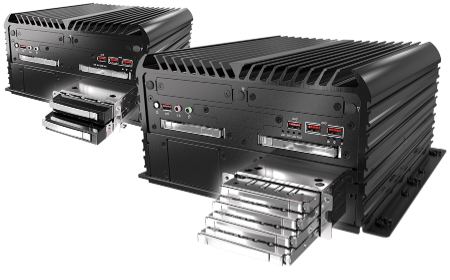 Data Protection and Anti-Corruption

The EDGEBoost Nodes have Safety Storage Ejection Buttons for data protection while swapping the hot-swappable storage. Pressing the button suspends all I/O operations and read/write procedures to the storage devices to prevent the loss or corruption of data.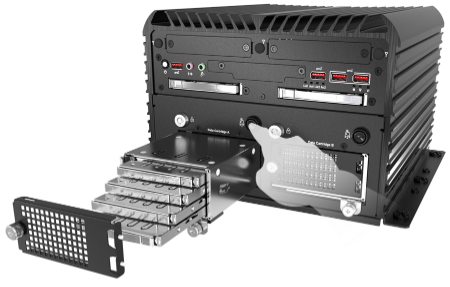 Active Cooling Where It Counts

When the RCO-6000-CML Series is equipped with an edge boost node, the enclosure housing the NVMe SSD storage drives and/ or GPU comes with a hot-swappable blower fan, delivering cooling where it counts.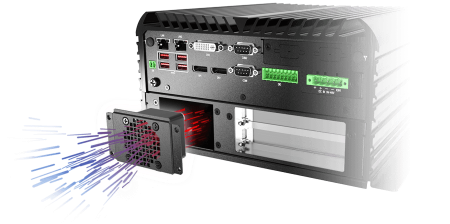 Industrial PC Powers Automation and Intelligent Computing