RCO-6000-CFL Series AI Edge Inference Computer with 9th Gen Intel® Core™ Processor
C&T's AI Edge Inference Computers are engineered to deliver maximum processing performance, accessible data storage and high-speed connectivity for the most rigorous IoT deployments today. Unlike other edge computers on the market, our hardware solutions are proven to bring an entirely new approach to performance acceleration at the edge. Combined with our top-notch engineering design and environmental ruggedization, C&T's AI Edge Inference Computers ensure enterprise reliability and deployment flexibility with a new two-piece module design – EDGEBoost Nodes.
Dedicated Hardware Acceleration for Machine Learning and Inferencing

Ruggedized and Tested for Industrial-grade edge computing

Modular EDGEBoost Nodes for real-time compute and high-capacity NVMe storage

Data Security and Theft Prevention with Lockable storage Drive Access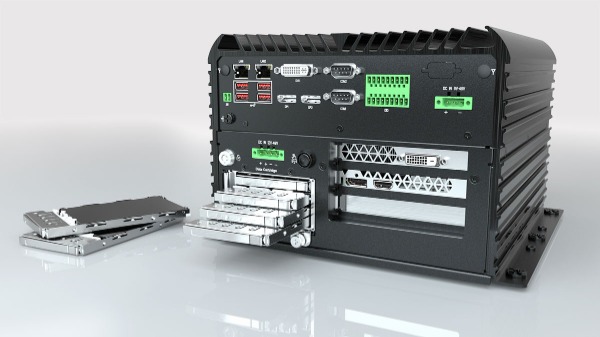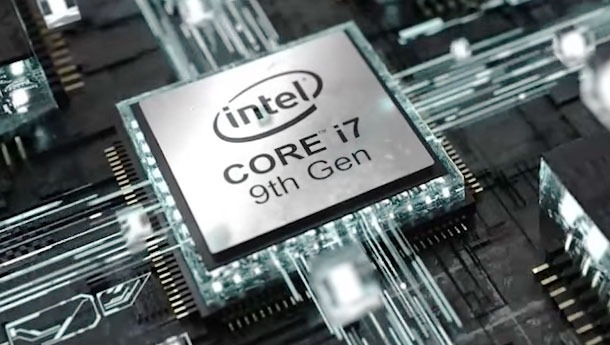 9th Gen Intel™ Core™ Processors
The Intel® 9th Gen. CFL-R S Processors and Q370 chipset technologies' processing power and IoT support enable low-latency, complex inference analysis in challenging settings.
Up to eight hyperthreading core

Up to 12MB cache; up to 4.4 GHz

Intel® UHD Graphics 610/630
Cannister Bricks. Hot-Swappable & Removable
The ability for data acquisition and storage capacity are some of the most important requirements for computing at the rugged edge. C&T's AI Edge Inference computers enable NVMe storage in a unique cannister brick design. These hot-swappable NVMe cannister bricks streamline and assist with data offload directly from the computer into a centralized location. The ability to quickly swap cannisters bricks provides easy data management and enterprise redundancy for applications that use data for machine learning.
Hot swappable NVMe SSD Cannister Bricks

Individual 2.5" Tooless SSD Drive Trays

Safety Storage Ejection Button to suspend all I/O operation, read-write to prevent loss or corruption of data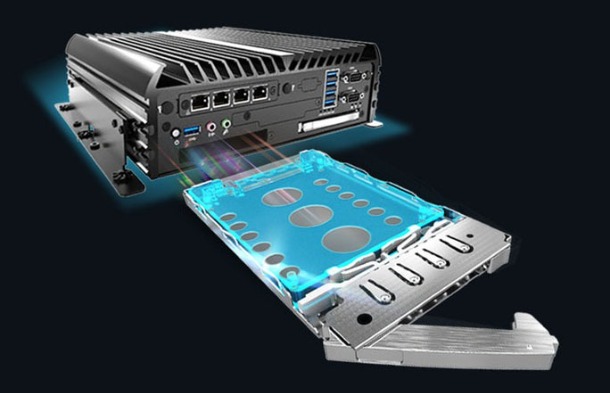 IoT Data Storage Adaptability
Two internal SATA SSD/HDD drives in the RCO-6000-CFL Industrial Computer Series are joined by two additional external SATA SSD/HDD bays as a scalable RAID. The external 2.5" bays permit toolless, hot-swappable replacement of the SATA drives, simplifying service and capacity upgrades. The addition of NVMe cannister bricks enable high-speed read and write speeds for mission critical data acquisition.
EDGEBoost Nodes. Real-Time Performance
Different EDGEBoost nodes for GPU acceleration or dense NVMe data storage

Select Modular Building Blocks for GPU acceleration or dense NVMe storage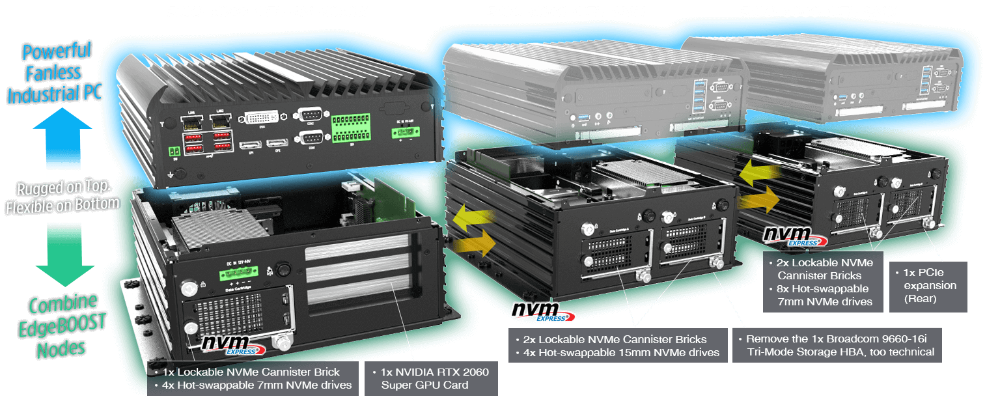 USB
4x USB 3.2 Gen2

5x USB 3.2 Gen 1

2x USB 2.0 (Internal Header)

COM Ports
4x RS-232/422/485 (External)

2x RS-232/422/485 (Internal)

DB9 & Universal Bracket
2x DB9 For Internal COM or CAN

1x Universal Bracket

Display
2x DP (4096 x 2304)

1x DVI-I (1920 x 1200)

Connectivity
2x GBE

5x Antenna (2x Wifi, 2x LTE, 1x GPS)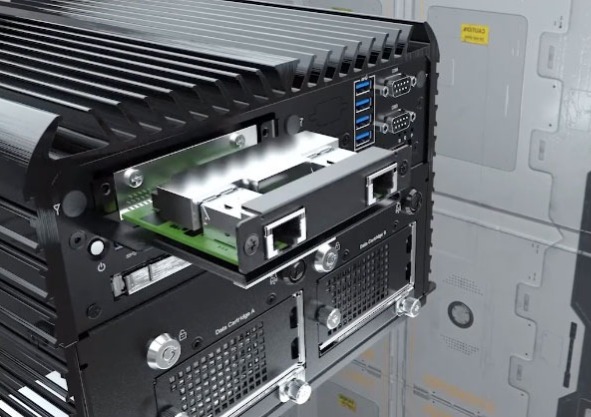 Vast I/O Expandability
The RCO-6000-CFL Industrial AI Edge Inference Computer series support rich expandability to boost wireless connectivity, streamline integration and unlock automation capabilities in harsh deployments. Leading edge and legacy technologies are easily incorporated into a powerful, intelligent IoT solution. These AI Edge Computers support add-in daughterboards for additional connectivity to IoT sensors and devices.
10G Etherent Module

5G Module

PoE / LAN M12 Module

PoE / LAN RJ45 Module